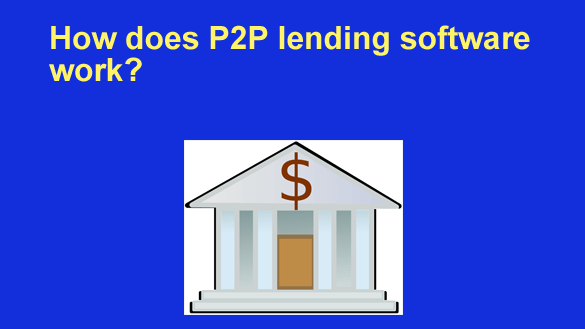 The world of finance is always in a state of constant movement and innovation, which means that people are always thinking of ways to make things more convenient.
One such innovation is P2P lending software and its solutions according to LenderKit. It has become increasingly popular with doubled market value in the last decade or so. This, as you can imagine, has brought forth a ton of questions. 
Some of the most important regards are exactly what P2P lending software is and why it's become as popular as it has. If you are interested in this topic and wish to know more, the following will give you just that. Without further ado, let's get into details!
What is P2P software?
In truth, similar solutions and innovations in this financial space have been there for nearly 20 years and the role was always to facilitate money lending between people without the need for a financial institution.
However, it hadn't found much need until the 2008 crisis, in which banks decided to stay afloat by reducing their lending services. Because of this, P2P lending software found a proper use and since then it's only grown in popularity.
How it works
As mentioned earlier, creation of platforms and software for P2P lending has experienced a surge in popularity. The P2P business lending has become increasingly popular, with its market value doubling over the past decade or so.
The software created is such that it only serves one purpose which is to create a link between singular lenders or investors and borrowers. Most of the applications that provide this service operate when investors place their money into them, with all transactions costing a predetermined fee which the platform runs on.
Today, it consists of two parties: the investor or lender and the borrower. To begin the process of having money change hands, investors must do through the following steps:
they must first find a platform and create an account
then they have to choose between the three often-used loan types
once done, they will then choose a singular investment or diversify their portfolio
the process ends when investors can view the progress of their investments
The process on the side of borrowers follows a similar format, save for a few things. Assuming that they've found an appropriate p2p lending platform, borrowers will do the following to reach their goal:
they have to apply to the site, after which verification of one's credit will follow
once the application is approved, a loan option will be given to you as well as the accompanying rates and terms
if you approve of the response, you can then agree to it via loan listing, which investors will fund
the process ends once your bank account receives the money and the debt begins to get paid
What you have to be prepared for at all times is the acknowledgment of the type of loan you wish to call on, which is based on what the money is to be used for. As stated earlier, there are three that are commonly used and they are:
The personal loan
Personal loans, as in traditional banking, are typically used for personal reasons which are often domestic. In the peer-to-peer framework, they are aided by a larger scope, giving them an advantage over traditional banking in that regard.
The education loan
These loans, as their name entails, are specifically for the furthering of one's education, especially if it is of a higher form like a university. The nature of the money received after something is finalized is that it is usually the full amount needed to complete payments.
The business loan
These loans are used by businesses of all kinds and sizes to help with all sorts of things. A business loan will be used to build a project from the ground up or to help with all other aspects of it once it's up and running. With the p2p framework, an app can allow a larger amount of investors to see the opportunity to invest, something traditional banks don't do.
Benefits and drawbacks
With p2p lending software being as popular as it is, there's bound to be a good reason for it. Below are just a few of the main reasons people decide to delve into them either as investors or as borrowers:
Pros:
For investors:
One of the main reasons investors choose this path is the ability to diversify one's portfolio easily and online. In the same vein, capital can easily be spread, which reduces the risks of heavy losses. All of these lead up to the fact that the average p2p lending software app tends to produce greater returns as a result of the above reasons.
For borrowers:
The main advantages surrounding p2p lending for borrowers are their ease of use and their often favorable working systems. Getting into them is fairly easy and once there, the conditions for loans such as credit score checking and interest rates are quite fair. In addition to this, the possibilities of getting the best deal are way higher, as you can get different offers.
Despite how beneficial they are for both parties, each has to be aware of the negative aspects of the endeavor. The following is a look at the drawbacks either can expect:
Cons:
For investors:
As with lending of any kind, the risk of never receiving your money again is always there. In addition to this, looking for multiple investments may not be worth it, as it often takes too much time.
For borrowers:
Ironically, the ease-of-use borrowers' experience on these platforms can also double as a drawback, as it makes them want more than is needed. This in turn causes them to enter into some serious debt that may be difficult to pay off.
Final thoughts
The truth is that traditional ways of banking and raising money are often far from viable for a large number of people. Fortunately, alternatives such as p2p lending software exist and from the above, you can tell that it's a more than viable option.
Granted, these platforms are accompanied by a lot of risks, but that's just standard investing. The possible benefits that come are enough for anyone to consider being a borrower or an investor. In any case, this realm is always going to favor the knowledgeable, which means that a considerable amount of caution has to come with your boldness.