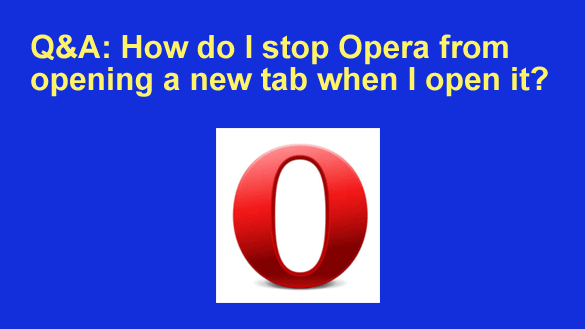 Question from Gene:  I use Chrome for most everything but I always open Facebook in Opera.
Every time I open Opera it opens Facebook by default (which is what I want), but it also always opens a new tab as the active tab.
I have to always click the X to close that new tab in order to see the Facebook tab.
How can I get Opera to open just the Facebook tab without opening a new tab along with it? 
Rick's answer: I use Opera the same way Gene, but I always have it open with my Outlook.com email displayed.
It used to open a blank page for we as well, but I found a setting that disabled it.
Follow the steps below to force Opera to open Facebook every time without also opening that annoying blank tab along with it:
1 – Close all open Opera windows.
2 – Re-open your Opera browser.
3 – Click the Menu button in the top-left corner of the window (it looks like a big red letter O).
4 – Click Settings.
5 – Scroll down to the "On Startup" section and select Open a specific page or set of pages.
6 – Click Add a new page.
7 – When prompted to enter a URL, type (or copy and paste) the URL for the Facebook home page.
8 – Close the Opera window and then relaunch it to make the settings change take effect.
That's all there is to it. From now on Opera should load just one tab every time you open the browser, and that tab should display the Facebook home page by default.
I hope this helps, Gene. Good luck!
Update from Gene:  That fixed it, Rick. Thanks for your help.
Bonus tip: This post explains how to quickly find out whether your browser needs to be updated.
---