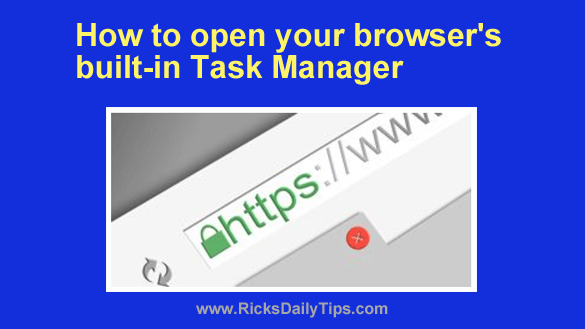 A while back I wrote this post explaining how to use Chrome's native Task Manager to find out which Chrome processes could be causing the browser to operate slower than it should.
That post received a lot of engagement, and several readers contacted me to ask if there is a native Task Manager built in to other browsers as well.
I answered those folks directly, but since I keep getting this same question I thought it might be a good idea to write a similar post to answer it on the blog. 
In a nutshell, the answer is yes. All the major browsers do indeed have their own native Task Managers that work almost exactly like the one in Chrome.
To open the built-in Task Manager in Microsoft Edge, Opera, Brave or Vivaldi just press the Shift+Esc key combination. The Task Manager will pop right up.
You can now examine each of the browser's processes to see if one of them is using an excessive amount of resources, which would indicate there's probably an issue of some type with that particular process.
You might have noticed that I didn't include Mozilla Firefox in the above list…
As it turns out, Firefox does have a native Task Manager, but you can't open it with a keyboard shortcut like you can with the other browsers.
You'll need to open it via the "Application Menu" instead. Here's how:
1 – Click the Application Menu icon in the top-right corner of the Firefox window (it looks like three horizontal lines).
2 – Click More tools > Task Manager.
Firefox's Task Manager should now be open in its own browser tab.
You'll probably notice that it looks quite a bit different than the Task Managers in the other browsers, but it works pretty much the same way.
Bottom line: If you ever need to troubleshoot a slow-running web browser the native Task Manager can be a big help. And now you know how to open in it all the major browsers!
---