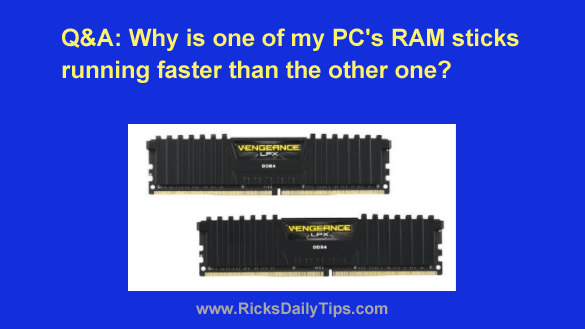 Question from Calvin:  I have two 8GB DDR4 RAM sticks in my computer. They are identical to one another in every way (I bought them a while back as a 16GB kit).
When I log into the BIOS it says one stick is running at 2400Mhz and the other one is running at 2133Mhz.
I've always heard that all the RAM sticks in a PC should operate at the same speed or your system might crash.
Here's a screenshot of the BIOS showing the RAM sticks running at the different speeds: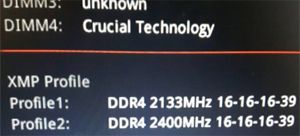 Why are they running at different speeds, and how can I fix it?
Rick's answer:  Calvin, your RAM modules aren't actually running at different speeds.
What you're looking at here are the XMP Profiles of those particular RAM modules, not the clock speeds they're currently operating at.
In a nutshell, XMP Profiles are simply groups of settings (typically clock frequency, voltage and timings) you can change for your system RAM without having to experiment with them all individually.
These XMP profiles have several beneficial uses, but they are most often used by "gamers" to easily (and more safely) over-clock the RAM in their gaming PCs.
Bottom line: You don't need to make any changes to your computer's RAM configuration because it's almost certainly already set as it should be.
Bonus tip: An awesome free download called Speccy will scan your system and display detailed information about your PC's entire hardware setup, including the RAM modules. Click here to check it out!
---
Never miss a tip!  Click here to sign up for my free Daily Tech Tips Email Newsletter!