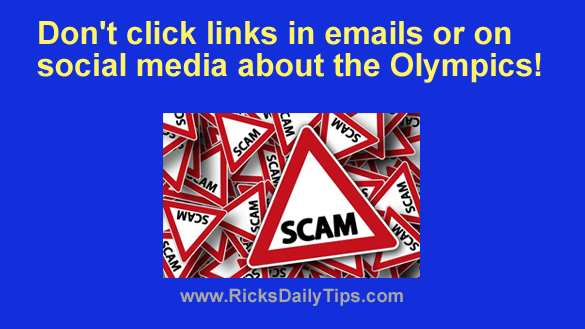 The Olympic Games are a worldwide spectacle that attract the attention of billions of people around the globe during the two week period when the games are underway.
Unfortunately, that two week period is also one of the most lucrative times for hackers and scammers to practice their dirty deeds.
Chances are you've already received emails and seen social media posts with links to Olympics related web pages and videos. If so, I hope you haven't clicked on the links because virtually all of those emails and web pages are fraudulent and dangerous. 
If you haven't received any of those malicious messages yet it's a pretty sure bet that you will before this edition of the Olympic games has run its course.
As I mentioned in this post explaining how to spot and avoid fraudulent emails, it's best to assume that the links in every email you receive is likely to take you to a phishing website or download malware onto your computer or mobile device.
And that goes double for emails and social media posts about the Olympics!
I strongly recommend that you turn to your favorite news channel or a legitimate news website for all of your Olympics updates.
In addition to those venues being safer, they're also likely to have the latest Olympics related news and videos before any third party that sends out links in emails or posts them on social media.
If you have already received one of these emails or social media posts and clicked (or tapped) on a link in it, I strongly recommend that you do one of the following:
1 – Do you have a Windows PC? If so, follow the steps listed in this post to thoroughly scan your system for viruses and other forms of malware.
2 – Do you have a Mac? If so, run a scan with Malwarebytes Anti-Malware for Mac.
3 – If you have an Android device you you should install AVG Antivirus for Android and allow it to scan your system.
Note: If you happen to use an iPhone, iPad or other Apple mobile device you're probably ok because Apple has designed the iOS operating system to be quite resistant to viral infections.
Bottom line: If you receive any emails or see any social media posts pertaining to the Olympics I recommend that you delete the emails or report and delete the social media posts without even opening them.
---