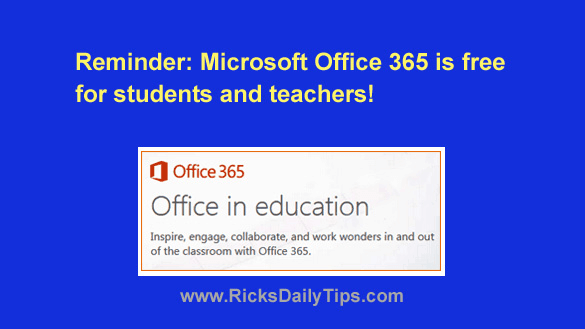 This is just a reminder that students and teachers can use Microsoft Office 365 for free thanks to an awesome program called Office 365 Education.
In a nutshell, if you meet the requirements of the program, you can download and run MS Office 365 on your PC, Mac and mobile devices without having to lay out any cash whatsoever.
There are no complicated hoops to jump through to sign up for the Office 365 Education program. In fact, all that's required to qualify is a verifiable and valid school-supplied email address.
Truth be told, you don't even to have go through your school to sign up since you can easily do it yourself once Microsoft has verified the email address you use to apply for the program.
This is what you'll get if you qualify and sign up for Office 365 Education:
The latest version of Word, Excel, PowerPoint and OneNote for up to five PCs or Macs and up to 5 mobile devices
Office Online for in-browser editing, collaboration and co-authoring
Not a bad deal, to say the least!
If you're a student or teacher, visit this page to enter your school-supplied email address to see if you qualify (and sign up if you do).
Note: Some schools use free MS Office "clones" such as OpenOffice or LibreOffice instead of the actual Microsoft software. If your school is one of them, you might want to consider using the same software your school uses to ensure maximum compatibility and uniformity.
Bonus tip: Click here to learn how you can save big by buying your textbooks from Amazon instead of your school.
---