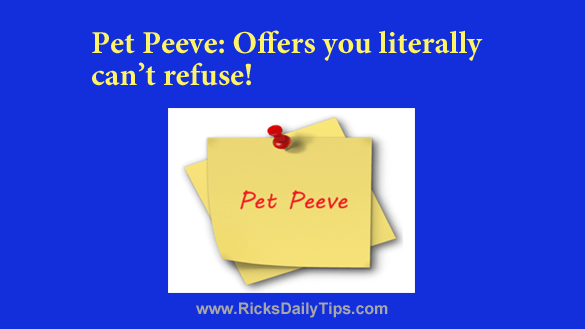 <Begin Rant>
Regular readers of this blog know that I love recommending free software that's truly useful every chance I get.
These days some of the best software around can be downloaded at no cost whatsoever.
That being said, a disturbing new type of "ad" has started popping up while using some free programs and apps. I call these annoying ads "offers that you literally can't refuse", and they work something like this: 
You download a free program or app and install it on your computer or mobile device. You use the software for several days without a hitch, then out of the blue you receive a pop-up message offering you an upgraded version of the program/app for a small fee.
At this point you are given two options:
1 – You can accept the offer right then and purchase the upgraded version, or…
2 – You can click a button that says "Remind me later".
That's it – there is no other option. Your only choices are to either purchase the upgrade on the spot or agree to be bugged about it again later. In my opinion, that's a poor way to "market" a software upgrade.
The kicker here is the fact that there's no option to reject the offer and be done with it.
When I see an upgrade offer, if I want to pay for the upgrade I'll go ahead and do it right then.
If I'd rather try the software for a while longer before making a decision about purchasing the upgrade, I'll gladly click "Remind me later".
But if I'd rather just skip the offer altogether I believe that I (and you) should be given that option.
As I've said many times, I love free software and I recommend awesome free programs and apps to others whenever I can.
But while I recognize that software authors have a legitimate right to earn money in exchange for their labor by offering optional upgrades, I don't believe that "refusing to take no for an answer" is a good way to go about it.
ATTN software developers and marketers: Feel free to ask me if I would like to purchase a software upgrade for a freebie that I willingly downloaded and installed, but please give me a way to decline your offer – immediately and for all time – if I choose to do so.
And by the way, if refusing an offer to purchase an optional upgrade to a "free" program completely disables it, that program isn't freeware. It's trial-ware.
Of course there's absolutely nothing wrong with trial-ware, but it should be described as such on the download page.
Describing a program or app as a "free download" when it's really trial-ware isn't just deceptive, it's flat-out lying in my opinion.
<End of rant>
Bonus tip:  Want to download your free software from a site that doesn't bombard you with misleading ads and/or tack on all kinds of unwanted add-on software? Give OlderGeeks a try!
---