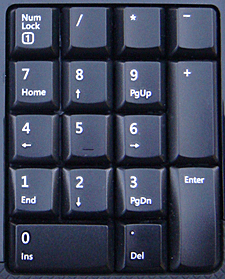 Question from Marc E.:  Hi Rick. I hope you can help me with a keyboard issue that I'm struggling with on my Lenovo ThinkCentre 3493GPU desktop computer with Windows 7 Pro.
It all started when I downloaded a game on to the desktop PC for my 5 year old to play while I'm working on my laptop. Now the number keys on the numeric keypad won't work. When I press a key the mouse cursor will move just a tiny bit, but nothing shows up on the screen. The rest of the keyboard works fine.
Whatever happened seems to have just affected the numeric keypad and nothing else. Even the number keys located above the letter keys are working.
Uninstalling the game didn't help, and neither did a System Restore. Do you have any ideas about what I can do to fix this? Thanks in advance for your help.
Rick's answer:  Marc, I'm a bit surprised that a System Restore failed to fix your keyboard issue, but with Windows you just never know. Based on your description of the problem, it sounds to me like the game turned on an accessibility feature known as "Mouse Keys".
Enabling "Mouse Keys" allows you to move the mouse pointer around the screen using the arrows on the numeric keypad, which is great if you don't have a working mouse or if a physical disability makes it difficult to use one. If not, it really isn't needed at all.
Follow these steps to turn off the "Mouse Keys" feature:
1 – Click the Start orb.
2 – Click Control Panel.
3 – Click Ease of Access.
4 – Click Ease of Access Center.
5 – Scroll down to the "Explore all settings" section and click Make the mouse easier to use.
6 – Uncheck the box beside "Turn on Mouse Keys".
7 – Click Apply, then click Ok.
I hope this gets your keypad back to working normally for you Marc. Good luck!
Update from Marc: That worked Rick! Thanks for your help!
---
Do you have a tech question of your own for Rick? Click here and send it in!
And now for a bonus tip: Be sure to sign up for my free RicksDailyTips Email Newsletter at the bottom of this page!
Want to help spread the word about my tips? Just click one of the handy social media sharing buttons below: