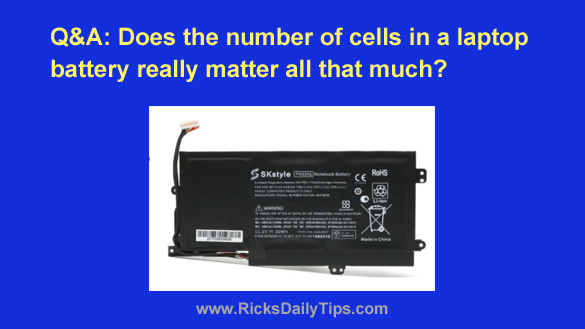 Click here to sign up for my free Rick's Tech Tips Newsletter!
---
Note: The links in this post are affiliate links.
Question from Anita.:  Hi Rick. The battery in my HP laptop went bad and I need to order a new one.
When I looked up the model number for my laptop on Amazon a thousand choices for replacement batteries came up.
What really confuses me is the number of cells each battery has. Some have 4 cells, some have 6 and others have 9.
Are more cells better? The batteries seem to be more expensive as the number of cells go up.
I guess what I'm asking is do you believe the extra cost I'd have to pay for a battery with more cells worth it?
Rick's answer:  Anita, when you checked out Amazon's selection of replacement batteries for HP laptops, you probably noticed that the batteries with the most cells tend to have the best customer reviews. There's a reason for that…
As a general rule, all other thing being equal, the more cells a battery has the longer your laptop will run before you'll have to recharge it again.
One of the specs you'll find on most laptop battery sales pages is "run-time", and generally speaking batteries with more cells will list a longer run-time than batteries with fewer cells.
Longer run-times mean fewer charge/discharge cycles over the life of the laptop, and the fewer the charge/discharge cycles the battery has to endure the longer it will last before you have to replace it with a new replacement battery.
Of course there are no absolutes. As I mentioned earlier, this general rule only applies if all other factors are equal. And as you can imagine that isn't always the case.
For example, some batteries are made from better materials than others and the quality of the materials used can also affect a battery's run-time.
That's why reading user reviews and checking the star ratings on Amazon and other sites is so important.
Bottom line:  All other things being equal, a laptop battery with more cells will let you use your laptop longer before you'll have to recharge the battery. And just as important, the battery itself will last longer overall.
In my opinion, the extra cost for a laptop battery that has more cells is almost always money well spent.
Bonus tip: This post explains why you don't need to let the battery in a new laptop fully charge before you begin using the laptop.
---
Cick here to ask me a tech question.