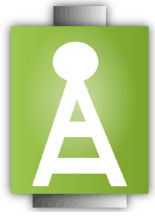 Important update: The NoBars app is no longer supported and it doesn't work with the latest versions of Android.
Have you ever noticed how quickly your Android phone's battery gets depleted when you're in an area where there's either a very weak cell signal or no signal at all? This happens because the phone's radio will go into overdrive while trying to locate any trace of a usable signal.
An easy way to prevent this from happening is to simply place your phone into "Airplane Mode" whenever you enter an area where you know there won't be a usable cell signal. But if you do that, you'll have to remember to take the phone back out of Airplane Mode later or else you won't be able to receive any calls or text messages. 
NoBars is a free app that will automatically place your phone into Airplane Mode when the signal gets weak. Once the phone is in Airplane Mode, NoBars can check every so often to see if there is a signal available. If so, it will take the phone back out of Airplane Mode without you having to remember to do it yourself.
I use NoBars, and I like it a lot. It works great, and it doesn't seem to slow my phone down a bit when it's running. Like many free apps, it does display ads that make the company some money, but they aren't obtrusive in my opinion.
You can install NoBars on your Android phone for free by searching for it in the Google Play Store.