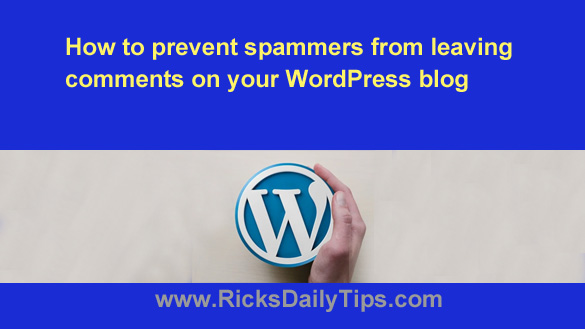 If you've recently started writing a blog you'll soon begin to see spammers leaving comments on your blog posts.
Sadly, dealing with spammers is just a fact of life for those of us in the blogging world.
SPAM comments are usually very easy to recognize because they typically have nothing whatsoever to do with the actual content of the post and they typically contain links to sites selling everything from designer sunglasses to, well…"adult" products.
If you allow SPAMMY comments to be left on your blog they'll quickly have a negative effect on your traffic numbers.
Even worse, the visitors who do manage to find their way onto your blog will likely leave rather quickly, never to return.
Luckily, there are some things you can do to virtually block all SPAM comments from your blog: 
Note: You'll need to be logged into your WordPress Dashboard to complete the steps listed below.
1 – Make sure you have the Akismet plugin installed on your blog.
Every new WordPress blog comes with an awesome anti-spam plugin called Akismet pre-installed on it. Make sure Akismet remains installed and activated because it will filter out the vast majority of SPAM comments that are left on your blog posts.
If you uninstalled Akismet because you didn't know what it was for, I recommend that you reinstall it and activate it right away by clicking Plugins>Add New and then searching for Akismet.
2 – Moderate the comments that are left on your posts so you can manually weed out any SPAM comments that manage to make it through Akismet's filter.
Click Settings>Discussion and check the box beside Comment must be manually approved in the "Before a comment appears" section.
Click the Save Changes button at the bottom of the page to save the change.
Note: You can always select Comment author must have a previously approved comment in lieu of the previous setting but that can be risky.
Some devious spammers will leave a legitimate comment the first time, then return again and again and leave SPAM comments once their comments are being approved automatically.
Only moderating a visitor's first comment is a definite plus from a usability standpoint, but it can be easily abused (and it quickly will be).
You'll need to decide for yourself how you wish to handle comment moderation on your blog. I choose to moderate ALL comments on my blogs and so far it's working out just fine.
3 – Manually "blacklist" repeat offenders that somehow slip past Askismet's filter.
You'll find that a relative handful of spammers will be able to leave SPAM comments on your posts regardless of how many times you mark their comments as SPAM.
For whatever reason they'll just keep on slipping through, costing you time and aggravation as you repeatedly have to remove them.
Luckily, it's very easy to add repeat offenders to WordPress' "Comment Blacklist" if they always include a certain phrase in their comments or the same domain name in the links they post.
Click Settings>Discussion and then copy and paste a phrase or website domain that's always used in their comments into the "Disallowed Comment Keys" box.
Again, be sure to click the Save Changes button at the bottom of the page to save the change.
That's all there is to it. After you ensure that Akismet is enabled and change the comment moderation settings as explained above, your comment SPAM problem should either be greatly minimized or eliminated altogether depending on how strict you set the moderation level.
Bonus tip: Prevent hackers from logging into your WordPress Admin Panel (and taking over your WordPress blog) by enabling Two-Factor Authentication on your blog's login page. This post explains how to do it.
---
Never miss a tip!  Click here to sign up for my free Daily Tech Tips Email Newsletter!