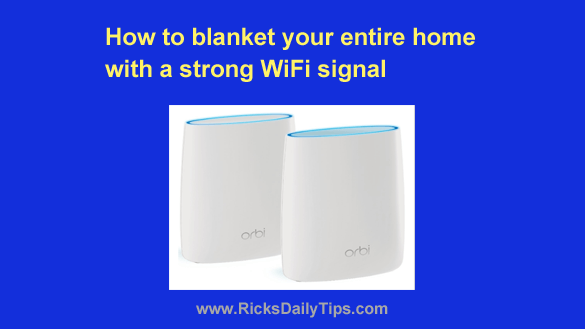 Click here to sign up for my free Rick's Tech Tips Newsletter!
---
Note: The links in this post are affiliate links.
Most families these days have multiple gadgets that connect to the Internet via a WiFi connection.
Whether it's a smart phone, a tablet, a laptop computer or even a smart TV, it's probably pretty close to useless in the areas of your home where there isn't a usable WiFi signal available.
If you have a large home, there are probably several rooms where you simply cannot get your devices to connect to your wireless router, especially if it's an extra long or multi-story house.
Luckily, there are several things you can do to ensure that your family will be able to use their various devices most anywhere inside your home.
First, try moving your router to a more central location in your home. If possible, place it on a high shelf that's far away from any large metal objects. Moving your router just a few feet could make a big enough difference to allow your wireless network's WiFi signal to reach into every nook and cranny of your home.
If moving your router to a better location doesn't eliminate all the dead spots, you can always install a second wireless router to extend the signal to those hard-to-reach places.
Yes, it's true that you could always try using a wireless range extender, but a second wireless router almost always does a better job at extending a wireless network's range.
The good news is you probably don't need an expensive top-of-the-line wireless router to install as a second router. In fact, an inexpensive (but good quality) Wireless N class router will probably work just fine for you, and it won't cost that much more than a good wireless range extender.
This post explains how to install and use a second wireless router to extend your Wi-Fi signal to a distant area of your home.
Next, make sure your home's Wi-Fi network is locked down tight by enabling the strongest encryption method that your router(s) and devices support. And be sure to use strong, hard-to-break passwords on both your WiFi network and your router(s) itself.
This is very important because neighbors piggy-backing on your wireless network will slow it down, and the effects will be a lot more noticeable in the rooms where the Wi-Fi signal is the weakest.
While a good (but inexpensive) Wireless N router will probably work just fine as your second router, replacing your older primary router with a modern AC class router will almost certainly enhance the performance of your entire wireless network.
AC class routers are designed to provide faster wireless network speeds for all of your connected devices as well as stronger WiFi signals overall. And as a bonus, an AC class router is virtually guaranteed to support the latest and most secure data encryption methods that are currently available.
And finally, if you want the best Wi-Fi coverage possible you always install an awesome Netgear Orbi Tri-Band WiFi System.
This is a two-part kit that consists of a base station and satellite unit that work together to provide strong WiFi coverage to every nook-and-cranny of your large home. The Orbi system easy to install and set up and it works amazingly well.
Bottom line: Your family doesn't have to live with weak WiFi signals and dead spots in the distant areas of your home. One of solutions mentioned above should work quite well for you!
---
Cick here to ask me a tech question.