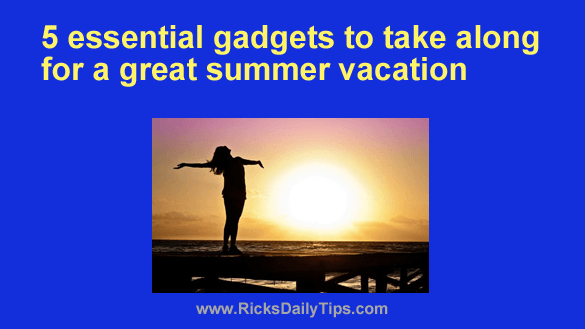 Note: The links in this post are affiliate links.
Well, it's that time of year again. School will soon be out for summer vacation in most places, and if you're like most folks you're probably busy planning your summer vacation.
The available choices of places to go and things to do are seemingly endless, but whatever you and your family end up doing this summer, your gadgets will probably accompany you during your travels.
With that in mind, here are a few vacation "tech tips" to help ensure that you enjoy the best vacation possible: 
First, I recommend that you leave your expensive "everyday" tech gear at home and take cheap substitutes in their place.
After all, smartphones and laptop computers are easily lost, broken or stolen during vacation trips, so it's best to simply leave them at home. But that being said, you're still going need some way to stay in touch while you're away from home.
The first thing you'll need is a cheap pre-paid smartphone.
That way if your phone gets lost, damaged or stolen, you'll be out just a few bucks instead of several hundred. And since you can use the phone as a small "tablet" you might not need a laptop at all.
If you do need to take a laptop along with you I recommend that you consider taking a dirt-cheap refurbished Chromebook or refurbished Windows laptop.
Next, I recommend taking along a couple of good portable chargers to keep your phones and other mobile gear charged while you're on the go.
If you'll be camping or hiking for an extended period of time, a solar powered charger will keep your devices powered up and running while you're out in the boonies.
And while you're out there in the wilderness, a small, yet extremely bright portable flashlight might also come in handy.
And now, here are a couple of tips for protecting your home and valuables while you're away…
1 – If you won't have a house sitter to keep a check on things back home while you're out of town, you can easily do it yourself with an inexpensive IP camera.
Once you have one of these nifty devices connected and on-line, you'll be able to monitor any area in or around your home in real time, from your smart phone or tablet.
2 – And finally, this is perhaps the most important vacation tip of all: Don't tell the world (and I mean that literally) that you're heading out of town on vacation! This post explains why.
There you have it. I hope you and your family have the best summer vacation ever this year. Have lots of fun, and stay safe!
Bonus tip: This post offers several tips for making burglars believe you're still at home while you're actually away on vacation.
---