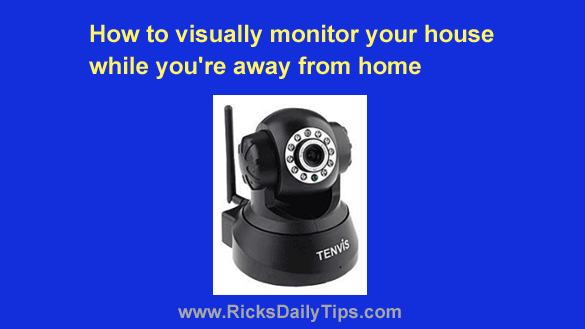 Note: The links in this post are affiliate links.
Do you ever worry about vandals and burglars damaging or ransacking your home while you're gone?
Unfortunately, in today's world that is a very valid concern.
A good home security system is a great deterrent, but not every home needs a full-blown system like that.
Depending on your home's size and layout, an inexpensive and strategically placed IP camera
or two could be all you need keep a virtual "eye" on your house while you're out of town using your smart phone, tablet or laptop computer. 
IP cameras work by transmitting video and/or still images to your WiFi router, allowing you to monitor the area that's in view of the camera from anywhere in the world via your mobile device.
Depending on the camera, the data captured can be stored on a flash memory card, a computer that's connected to your home network, a network hard drive that's plugged into your router or a server sitting somewhere in the "cloud".
In addition to being able to review the recorded video and images after you get home (and if need be turn them over to the police), you can also monitor everything that the camera sees virtually as it happens on your smart phone, tablet or laptop.
Some IP cameras are so inexpensive nowadays that you can purchase several of them and strategically place them where they can monitor the outside of your house as well as selected locations inside.
For example, you can place cameras in rooms containing valuables such as silverware, computer equipment or firearms while using others to cover the windows and doors on the front and back sides of your house.
Of course you don't need to cover your entire house with video surveillance, just the places where burglars and vandals are likely to enter. Depending on the layout of your house, a single camera could be all you need.
Installing an IP camera doesn't require running a cable or drilling any holes so they are very easy to install and set up. The software is usually easy to install and use as well.
As far as selection and pricing is concerned, simply pay a quick visit to Amazon.com
and search for the term IP Camera and you'll get a good idea of what's available and what you can expect to pay.
I think you'll be pleasantly surprised by the relatively low cost of these amazing devices.
Bonus tip: This post discusses 10 ways to fool burglars into thinking you're always at home.
---