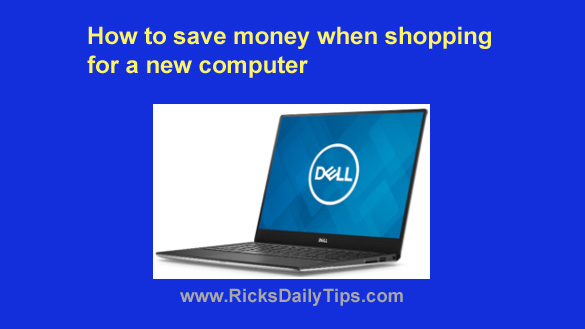 Note: The links in this post are affiliate links.
Folks often ask me what they need to look for when they go shopping for a new computer.
In a nutshell, they want to buy the best machine they can get without spending any more than they have to.
In some ways trying to find the right computer is a lot like shopping for a new car. There are always dozens of "current models" to choose from, and they tend to look a whole lot alike.
First of all, you need to decide whether you'd be better off with a desktop computer or a laptop. That decision will depend primarily on what you plan to use it for.
If you need a machine that you can easily carry around with you, a laptop is the obvious choice.
On the other hand, if you'll be using your computer in one place (such as in a home office or den), you'll probably be better off with a desktop machine.
If portability isn't an issue I strongly recommend buying a desktop computer instead of a laptop, for a couple of reasons:
1 – You can quickly and easily switch to a different monitor or keyboard if you find one you like better than the one you're using at the moment (or if your current one stops working).
2 – Virtually any of the components inside a desktop machine (as long as it isn't an all-in-one model) can be replaced if they should ever fail or need to be upgraded to newer technology.
As far as choosing a brand is concerned, it really just boils down to personal preference.
Like automobiles, most all laptop and desktop computers are quite good these days, regardless of the brand. I really don't believe there's much difference between the major brands in terms of quality and dependability.
In my opinion it's more important to check the quality of individual models rather than the brands themselves. You can easily do that online because most major online computer retailers offer a complete listing of customer reviews and ratings.
For example, you'll typically find dozens of customer reviews for every computer model on Amazon, and in many cases you'll find hundreds, or even thousands of them.
Another thing to keep in mind is you don't have to buy the most powerful computer on the market. Buying the model that best matches your needs will help ensure that you'll be happy with your purchase and that you won't waste a ton of money.
And finally, I recommend that you skip the extended warranty when it's offered to you. (and trust me, it will be offered to you).
Experience has proven extended warranties to be bad deals in most situations, for the reasons explained in this post.
Bottom line: Computers are cheaper than ever these days, but even the least expensive models will still set you back at least a 300 bucks or so.
That's why it makes sense to shop with care and avoid making an impulse purchase.
---