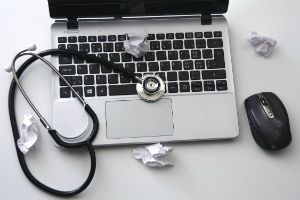 If you own a computer, chances are there will come a time when it will need to be repaired or tuned up a bit.
For example, you might start hearing strange noises or your most-used apps start crashing.
Or perhaps the system might start shutting down at random times or other irritating things begin to happen.
When something out of the ordinary pops up you'll need to evaluate the situation and determine how you need to proceed.
I'm often asked whether a given computer should be repaired, or simply scrapped and replaced with a new laptop or desktop PC. This is my usual reply: 
1 – Is the machine worth fixing given the relatively low cost of modern computers?
These days the bill for a major repair can easily add up to half the cost of a brand new replacement computer, and sometimes even more.
In my opinion, it makes little sense to spend anywhere from $150 to $200 to repair an out-of-warranty computer that can probably be replaced with a new one for around $350.
2 – Does your computer's hard drive contain photos or other sensitive files that you wouldn't want a technician to see?
If you take your computer to a shop, the tech(s) who works on it will have full access to everything stored on your hard drive. And yes, some of them will snoop around.
If you have sensitive files on there that you absolutely want to keep private, you might decide that you'd rather just buy a new computer instead of making those files available to a stranger.
If the computer still boots up and runs you can always copy any sensitive files onto an external drive and then delete them before taking the machine into the shop.
3 – Does the ailing computer really need to be taken to a shop to be repaired in the first place?
If your machine has a hardware problem, it will most likely need to be repaired by a qualified PC technician. But you might also have another option.
Do you have a tech-savvy neighbor or family member who is able and willing to do the job?  If so, you can probably save a bundle on the parts and labor costs.
Hardware issues like a bad hard drive or an over-heating system can usually be fixed by anyone who has experience working with computer hardware, even if they aren't a "pro". In fact, you could possibly even do it yourself with the help of a YouTube video!
Software issues such as malware infections and corrupted Windows installations can also often be remedied by an informed and experienced layman.
Here are a few posts that explain how to fix the most common hardware and software issues that afflict home computers:
Note: The links below will open in a new tab. That will make it easy to return to this page by simply closing each tab when you're finished reading that page.
Bottom line: Taking an ailing computer to a repair shop isn't always the best course of action.
Depending on the age of the machine, the symptoms it is exhibiting and various non-technical factors, you might be better off either doing the repair yourself (or enlisting the help of a neighbor) or simply replacing the machine with a new laptop or desktop PC.
Bonus tip: Want to make sure you never miss one of my tips? Click here to join my Rick's Tech Tips Facebook Group!
Note: The links in this post are affiliate links.
---
Want to ask Rick a tech question? Click here and send it in!
If you found this post useful, would you mind helping me out by sharing it? Just click one of the handy social media sharing buttons below.