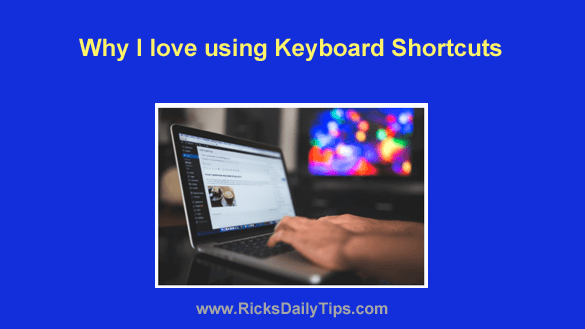 Like my tips?  Click here to sign up for my free Daily Tech Tips Newsletter and you'll never miss one!
---
Regular readers of this blog know that I'm a huge fan of keyboard shortcuts.
I spend several hours every day working with a variety of computers so I'm always looking for ways to work more efficiently.
Using the keyboard to accomplish common tasks saves me a ton of time because I rarely have to take my hands off the keyboard.
In a nutshell, keyboard shortcuts let you accomplish tasks that would often take several mouse clicks with just a single tap of a key (or key combination).
They also save you time by not requiring you to move your hand from the keyboard to the mouse, then back to the keyboard again.
There are dozens of keyboard shortcuts for the various versions of Windows, and I know that remembering all of them would be pretty close to impossible.
But the good news is you don't have to. 
Taking the time to remember just a few basic shortcuts will save you bunches of time, regardless of the types of tasks you typically use your computer to accomplish.
For example, this post post lists eight essential keyboard shortcuts that are virtually guaranteed to make your life easier. And you don't even have to remember all eight of them in order to save some serious time while you're using your PC.
Of course the post referenced above just covers the essentials. You'll find a more extensive list of Windows 10 keyboard shortcuts right here.
And don't fret if you happen to be a Mac user. You have plenty of keyboard shortcuts available to you well. You'll find them right here.
Bonus tip: If you only want to remember one keyboard shortcut, I strongly recommend that you remember this one!