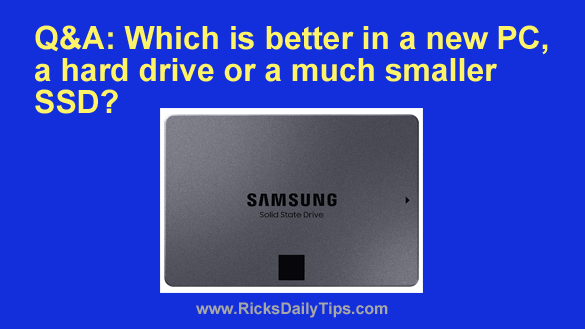 Question from Ellen:  I need to purchase a new laptop. What are your thoughts on an SSD drive vs a regular hard drive?
Costco has two HP computers going on sale both with 12GB of memory. Both come with an Intel i5 CPU.
The difference between the two machines is the first one comes with a 512GB SSD and the other one comes with a 1TB hard drive.
They both are coming with Windows 11 (which I'm not thrilled about).
Which drive do you recommend? I know bigger is better, but I also know the SSD is faster?
Rick's answer:  I would strongly recommend that you choose the PC with the SSD instead of the hard drive, Ellen.
While 512GB in only half the storage space you'd get with the 1TB hard drive, 512GB isn't tiny. That's still a decent sized SSD in my opinion.
Truth be told, a 512GB drive should be plenty big enough to hold Windows, all of  your programs/apps plus quite a few user-created files.
If you do end up needing more storage space in the future you can easily add all you need simply by plugging in an external USB hard drive or SSD.
Yes, that external drive will be slower than the internal SSD, but that won't really be an issue.
With an SSD the machine will boot up a lot faster and your programs and apps will load in a flash (compared to their loading times from a hard drive).
I have no doubt that you'll find that faster bootup and program load times will enhance your user experience a lot more than having extra internal storage for your user-created files.
Bottom line: I've often said that replacing a spinning hard drive with a much-faster SSD is one of the best upgrades one can make for the money.
Here you have an opportunity to make that awesome "upgrade" right at purchase time.
I hope this helps, Ellen. Regardless of which way you end up going with your decision, I wish you all the best!
---