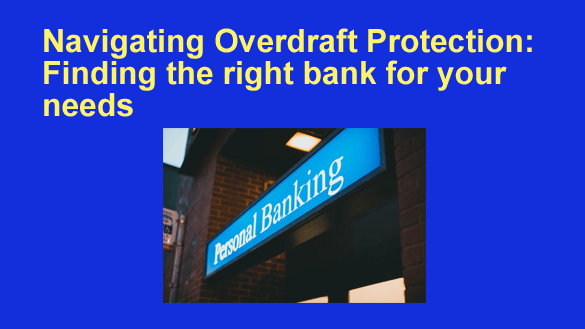 You've been there: that awful moment when you realize you've spent more than what's in your bank account. Overdraft fees can add up quickly, making a bad situation worse. But some banks offer better options than others.
Finding the best bank for overdraft protection can be a game-changer. This article will guide you through the whole process, from understanding overdraft protection to tips for finding a bank that fits your needs. 


Understanding overdraft: More than just a fee
Overdraft protection is like a safety net for your bank account. When you spend more than what you have, the bank covers the extra cost, so you avoid declined transactions. Sounds great, right?
But this service isn't free. Banks usually charge an overdraft fee for each transaction that exceeds your account balance. These fees can range from $20 to $35, and they can add up quickly if you're not careful. Understanding the rules and fees related to overdraft protection can help you make an informed choice about which bank to choose.
Chime experts explain, "Overdrafts are problematic because they cost you money. And, over time, they can add up."


Research is key: What to look for
When searching for a bank, don't just look at the first one that pops up. It's important to do a deep dive into several options. Check for customer reviews, as these often provide real-life experiences you won't find in a bank's marketing material.
You'll also want to compare fees, including overdraft fees, as these can vary widely. Some banks even offer an overdraft grace period, allowing you to put money into your account before any fees are charged. Other banks have a limit on how many times they'll charge you an overdraft fee in a single day. All these features can help you find a bank that won't bleed you dry with fees.


Application process: What you'll need
Just like opening any other bank account, you must provide some personal information. This usually includes your name, address, Social Security number, and some form of identification like a driver's license.
Nowadays, many banks allow you to apply online, making the process faster and easier. Also, some banks will review your credit score as part of the application process, so it's a good idea to know where you stand. Poor credit might limit your options, but there are still banks out there willing to work with you.


Overdraft settings: Control is in your hands
Many people don't realize they have a say in their overdraft settings. Some banks allow you to link a savings account or a credit card to your checking account. If you spend more than what you have, the bank will pull funds from the linked account to cover the difference. This usually comes with a smaller fee than standard overdraft protection.
Some banks also offer text or email alerts when your balance is getting low, so you can add funds before you go into overdraft. Check out all these features and use them to your advantage.
Navigating overdraft protection can be tricky, but with the right information, you can make a choice that suits your financial needs. Do your homework, understand your options, and watch for potential pitfalls.
By taking these steps, you'll find a bank that not only offers useful overdraft protection but also suits your broader financial needs. Remember, the right bank can make all the difference in helping you manage your money smartly.
---