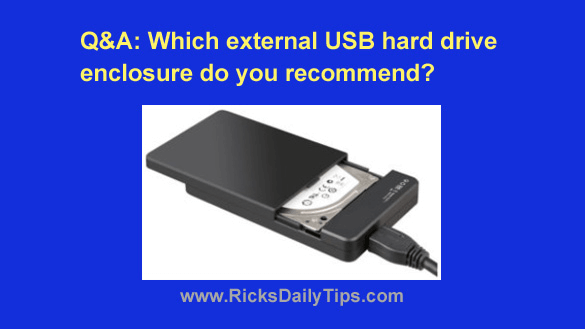 Note: The links in this post are affiliate links.
Question from Elizabeth:  I just finished reading your post about converting an internal hard drive into an external drive. I never dreamed that it would be so easy!
I have a 1GB hard drive that came out of my Dell Inspiron 15 5000 laptop when it died on me. The guy at the shop tested the drive and said it's working fine.
I'd like to put that drive into an external enclosure and connect it to my new laptop that has Windows 10 and USB 3.0 ports.
When I clicked the link you posted to Amazon it listed a bunch of external USB enclosures and I have no clue which one I should buy. Can you recommend a good one that doesn't cost a lot? 
Rick's answer:  Most any external USB 3.0 enclosure that can accept a 2.5″ SATA drive would do a good job for you Elizabeth. But that being said, I do have a favorite enclosure that I both use myself and recommend to others.
This little gem from Inateck is one of the best-selling enclosures on the market, and for good reason: It actually costs less than a good pizza, and it works like a charm!
This durable ABS plastic external drive case opens easily without any tools, and it works perfectly with virtually any 2.5 inch SATA hard drive or SSD.
Simply slide the case open, install the drive, then slide it back closed and plug it in to your computer's USB port. You'll immediately see the drive listed in "File Explorer".
Bottom line: While there are more expensive external USB 3.0 drive cases on the market, I honestly don't believe you'd be able to find one that does a better job than this one at any price.
Click here to read more about the Inateck 2.5 Inch USB 3.0 HDD SATA External Hard Drive Enclosure at Amazon.
I hope this helps Elizabeth. Good luck!
Update from Elizabeth:  Thanks so much Rick. That helps a lot! I just ordered one.
---
Never miss a tip!  Click here to sign up for my free Daily Tech Tips Email Newsletter!