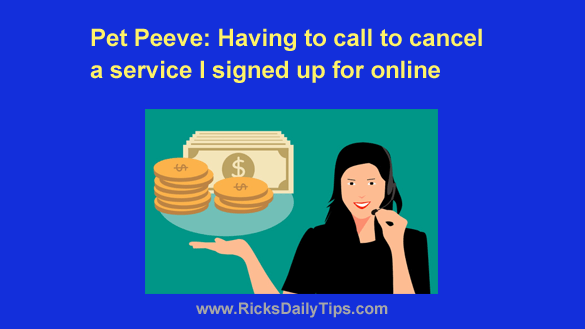 Have you ever signed up for a service online only to discover later that you had to call them up on the phone to cancel?
I recently had that happen to me, and I found it annoying to say the least.
I have no problem calling to cancel a service that I signed up for on the phone, or even via the postal mail for that matter.
But there really is no excuse for a company that encourages online signups to refuse to allow you to cancel that service the same way you signed up for it.
Of course the reason they do this is because it gives their "Retention" personnel an opportunity to persuade you not to cancel.
Even worse, in extreme cases they'll even resort to shaming and low-level extortion in order to keep your monthly payments rolling in.
In my humble opinion, this is immoral. And in my humble opinion it should be illegal as well.
But alas, legal it is. At least for now…
If I were King (not that I'd ever want to be), any company that encourages customers to sign up for their service(s) online would be required to do one of the following:
1 – Tell the customer up front BEFORE they click the button to finalize the deal that a phone call will be required if/when they decide to cancel. Or…
2 – Provide a cancellation page on their website that's easy to find via a link from either the home page or ANY Customer Service or Support page.
Most companies take great pains to ensure that the online sign-up process for their services is fast and easy because they naturally want to entice as many people to sign up for them as possible.
And there's absolutely nothing wrong with that. This is America, and free enterprise reigns supreme.
But that being said, they really should be required to make the process of cancelling their services just as fast and easy as the process they designed to encourage you to sign up in the first place.
How do you feel about this? Agree? Disagree?
I'd love to hear your opinion…
---