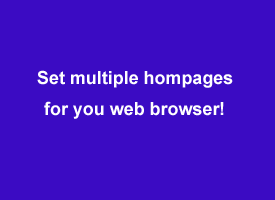 Most people have several websites they visit throughout the day. For example, I check my email at Outlook.com fairly often while occasionally checking for updates on Facebook and Twitter.
If you do the same, it's easy to have several of your favorite websites load automatically in separate tabs every time you load your web browser. That way you'll be ready to get down to business just as soon as the browser finishes loading.
Here's how to set multiple homepages in Internet Explorer, Google Chrome and Firefox (simply skip to the appropriate section): 
Internet Explorer
1 – Click Tools>Internet Options.
2 – In the Home Page section, place your mouse cursor at the end of the URL that is currently set as your home page and press the Enter key.
3 – Type the URL of another website that you'd like to open automatically whenever Internet Explorer is loaded.
4 – If you wish to add another URL to the list, press the Enter key again and type the URL on the next line.
5 – Repeat this process to enter all the URLs you'd like to automatically load at startup. When you're done, click Ok.
Google Chrome
1 – Click the Menu icon (in the upper right-hand corner of the screen) and then click Settings.
2 – Find the On Startup section. Select the radio button beside 
3 – Click inside the box beside Add a new page and type the URL of one of the pages you'd like to have open whenever you start Chrome, then press the Enter key.
4 – Repeat step 3 until you have added all the home pages you wish to add, then click Ok.
Firefox
1 – Click Tools>Options.
2 – Click your mouse at the end of the current home page URL and then press the "Pipe" key while holding down the Shift key. The symbol for the Pipe key looks like a straight vertical line, and that key is usually located directly above the Enter key in the approximate middle of the keyboard.
3 – Type the URL of the second website you'd like to have open whenever you load Firefox.
4 – If you wish to add a third URL, press Shift+Pipe again and then type the URL.
5 – Repeat step 4 until you have entered the URLs for all the websites you wish to open automatically.
6 – Click Ok.