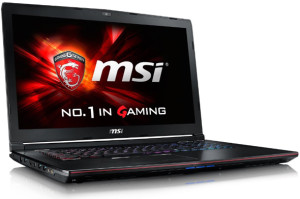 Today's top-selling gaming laptops can hold their own against many of the most powerful desktop PCs. It seems that their CPUs get faster, their RAM gets bigger and their graphics cards get more powerful by the day.
While the fantastic MSI G Series GE72 Apache Pro-003 17.3″ Gaming Laptop isn't the most powerful gaming laptop your money can buy, it is definitely one of the most powerful laptops you can buy without having to sell the farm or take out a mortgage in order to pay for it.
Although this computer is billed as a "gaming laptop", it also makes a fantastic general purpose computer or business PC thanks to features like these at such a reasonable price: 
17.3 inch Full HD 1920×1080 Wide Angle View screen
NVIDIA GeForce GTX 960M video card with 2GB GDDR5 dedicated video RAM
Intel Core i7-6700HQ 6th Generation CPU
16 GB DDR4 1600MHz RAM
1TB (7200RPM) hard drive
Intel 3165 Stone Peak 1 Wireless LAN Port
Killer E2400 Game Networking
Bluetooth 4.0
SteelSeries Backlit Gaming Keyboard
4 Dynaudio Tech Speakers + Subwoofer
10180p Full HD Webcam
2 USB 3.0 ports
1 USB 2.0 ports
DVD SuperMulti Optical Drive
Windows 10
2 Year Parts & Labor Warranty
Here is a larger frontal view of the GE72 Apache Pro-003 Laptop:
As you can see, there is plenty to love in this powerful, yet affordable laptop. While it could stand to be a little lighter and the battery charge doesn't last as long as what you would normally get in a less powerful laptop, those are minor issues in my opinion when you consider all the power and features this machine offers for the money.
The backlit keyboard on this laptop is a joy to use, and the AC class Wi-Fi is rock-solid and very fast. The three high speed USB ports and multiple video ports offer plenty of flexibility for connecting USB devices and extra monitors.
Bottom line: If you've been on the lookout for a either a great gaming laptop or an extra-powerful general purpose or business PC, this true beauty from MSI packs plenty of punch for about half what you'd pay for a top-of-the-line gaming laptop.