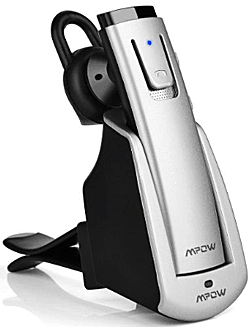 If you need to use your mobile phone in situations where you also need to use both hands, a bluetooth headset is one of the best solutions available today. But the problem with quality bluetooth headsets has always been their cost.
There are indeed "cheap" headsets on the market, and in most most cases you get exactly what you pay for. But I recently had the opportunity to try out a very economical bluetooth headset/docking station combo from MPOW that won't cost you an arm and a leg, yet offers outstanding performance.
I received the MPOW Knight Wireless Bluetooth 4.0 Headset Headphone with Charging Dock for review last week, and to be honest I wasn't expecting anything spectacular given its low discounted price on Amazon. But after taking it out of the box and giving it a try, I was rather impressed to say the least. 
The headset itself fits comfortably on either ear, and the sound quality is about as good as you're going to get from a bluetooth headset. The built-in noise reduction and echo cancellation features really work, and the audio is clear and sharp. In a noisy environment a small amount of background noise still slips through, but that's to be expected with any bluetooth headset.
Using this headset couldn't be simpler. Just remove it from the included charging docking station when you receive an incoming call and the call will be answered automatically. All you have to do is place the headset on your ear and start talking! When you place the headset back into the docking station, it goes into sleep mode and resumes charging the battery.
The charger draws its power via the included standard Micro USB charging cable. Just plug it into an open USB port and it starts charging your headset automatically.
Bottom line: If you need a bluetooth headset that's affordable, yet has great audio quality, volume and battery life, I believe this nice package from MPOW will serve you extremely well.