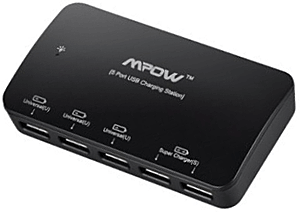 In today's digital world, many of us have multiple gadgets such as smart phones, tablets and other portable devices that are powered via USB-style battery chargers. And that, of course, means we have lots of chargers on hand.
A good wall-powered multi-port charger can simply life considerably by replacing several chargers with just one.
Today I'm going to tell you about an incredible and inexpensive charger that I believe you'll really love. 
I received an MPOW 36 Watt 5-Port Smart USB Wall Charger the other day to test and review, and it really blew me away the moment I first plugged it in.
Unlike the typical multi-port USB wall charger that plugs directly into an AC outlet and tends to pull out of the socket due to the weight of the cables that are connected to it, the MPOW 5 port charger is a small, unobtrusive desktop unit. Just place it on a corner of your desk or on a table, plug in your devices, and let it work its magic.
Although small and unobtrusive, this 5v/7.2a charger is no lightweight when it comes to keeping your devices charged up and ready to go. It can easily charge up to five smart phones at a time. And if you have an iPad and an Android tablet, you can charge both of them at the same time that you're charging three phones!
The attractive black case that holds the charging circuitry is equipped with an on/off power button and a bright blue LED that lets you know when the unit is turned on and ready to charge your devices. The "Smart" circuitry inside the unit detects the types of devices that are plugged into it and adjusts the current supplied to them accordingly.
The only thing about this charger that I'm not crazy about is the relatively large "brick" style AC adapter. But I suppose that's to be expected given that it supplies a whopping 7.2 amps to quickly charge the batteries in multiple devices. The 8′ power cable is really nice since it lets you use the charger even in locations where there is no AC outlet nearby.
Bottom line: If you have multiple devices that are charged via USB power, this little gem from MPOW will really simply your life and make using all of your gadgets a lot easier.