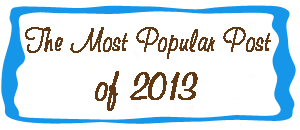 To wrap up 2013 I thought it might be fun to take a look at my blog stats to see which post was read the most over the course of the past year. What I discovered astounded me.
The most popular post of the year wasn't number one by just a hair. It actually had a whopping 22% more page views than the runner up. 
There surely must have been a whole bunch of hard drive (and SSD) upgrades in 2013 because the most read post of the year explains how to convert a spare internal hard drive into an external USB drive.
Basically, all you have to do is purchase a USB hard drive enclosure and slide your spare internal drive into it. It really is that easy, and it's cheap too. In fact, you'll find several nice USB hard drive enclosures on Amazon for less than $10!
It's been a true pleasure publishing my tech tips and answering your questions throughout the year, and I look forward to doing a lot more of the same in 2014 and beyond. I want to thank each and every one of you for taking time out of your busy day to read my blog posts. Your "visits" mean more to me than you will ever know. Thank you all very much!!!