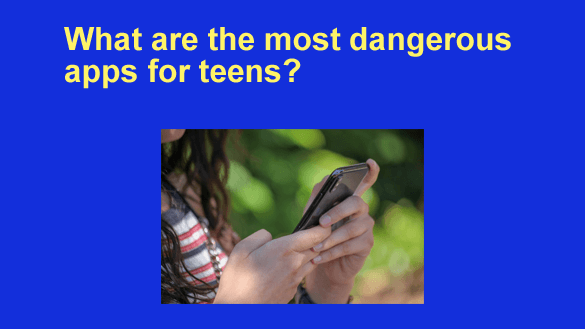 Recent times have seen a noticeable increase in data breaches, particularly connected to mobile apps. This isn't just about big companies losing data. It impacts us at an individual level, too, especially when our teenagers are on these apps.
Being a Parent, one might get worried about the apps their teenager uses. In this digital era, the concern isn't just about screen time but also about the potential dangers lurking behind certain teen apps.
Let's delve into the most dangerous apps for teens and learn how to protect them. 


Dangerous App Types
Teenagers love exploring new teen apps, but some categories are riskier than others, such as:
Anonymous Messaging and Dating Apps: Apps like Sarahah, Ask.fm, and certain dating apps can be a minefield. The cloak of anonymity can embolden cyberbullies and predators, exposing teens to threats and unsolicited content.
Privacy and Hidden Apps: Think your teen's phone is innocent? Think again. Hidden vault apps can store private photos, videos, and chats, eluding even the keenest parental eyes. Location-sharing apps, although useful, can compromise safety if misused.
Social Media Challenges and Trend Apps: Teen Apps that promote viral challenges might seem fun and harmless, but sometimes they can encourage risky behaviors. For example, the infamous "Tide Pod Challenge" or "Skull Breaker Challenge" had dangerous and sometimes tragic consequences. It's crucial to be aware of what challenges are trending and guide your teen on the potential hazards.
Unmoderated Chat Rooms: There are apps out there that offer chat rooms where users can engage in group chats with strangers. Without proper moderation, these platforms can become a hub for inappropriate discussions, cyberbullying, or even grooming by predators.
Apps with In-App Purchases: These dangerous apps might seem free initially, but they can have hidden costs. Teens might unknowingly rack up hefty bills buying virtual items, currencies, or features.
How To Protect Teens from Online Dangers?
Protection doesn't mean intrusion. It's a combination of vigilance and understanding.
Parental Control Tools:
One way is using parental control apps like mspy. Take mSpy, for instance. It offers a plethora of parental control features that allow monitoring and restricting app usage.
mSpy lets you view your teen's private social media chats from a range of platforms like WhatsApp, TikTok, Facebook, Instagram, Snapchat, and many more.
You can check their browsing history, bookmarks, block specific websites, and even restrict certain teen apps. Additionally, it provides insights into the Wi-Fi networks they connect to.
mSpy enables you to read their SMS messages, iMessages, emails, and even Google Hangouts chats.
It doesn't stop at just monitoring their online activities. Track their real-world movements with GPS tracking and even set geo-fences to ensure they're safe.
With the keylogger feature, you can see everything they type. Set keyword alerts and even use the screen recorder feature to gain more insights.
While some might see it as an intrusion, it's vital to reiterate that mSpy's purpose isn't about spying. It's about keeping your teen safe by being informed and aware when needed.
Communication and Education:
One of the best approaches to understanding and respecting your child's privacy, both offline and online, is establishing open communication lines. When kids know they can come to you with issues without fear of unjust punishment or criticism, they're more likely to be honest.
Educate your teens about responsible app use. Build trust, so they come to you with their online concerns, ensuring a safer digital space.


What are the Risks?
Spotting red flags can be the key to intervention. If your teen becomes more secretive, changes online habits abruptly, or withdraws from family, it may be a sign of app-related issues.
Dangerous teen apps can lead to cyberbullying, exposure to inappropriate content, or interactions with potential predators. Always keep an eye out and stay involved.
It's essential to chat with your kids about what they're up to online. Do you know the apps they use or who they chat with?
There are some real concerns out there. Have you talked to them about online risks and why it's crucial to set some digital limits?
Maybe consider rules like no phones during meals or keeping devices out of the bedroom.
If you're worried, instead of peeking into their phones, maybe think about parental tools like mSpy? It'll help monitor content and limit screen time.
And hey, lead by example! Show them it's all about balance. Your actions will teach them more than any lecture.


Final Verdict
The online landscape is huge, right? While it's packed with cool learning resources and ways to connect, it's also got its fair share of sketchy corners. By getting the lowdown on those risky apps out there and using tools like mSpy, parents can find that sweet spot between trust and keeping their teens safe.
Always chat with your teens, stay in the loop about the latest online buzz, and you'll have a solid game plan for navigating the digital world together.


---