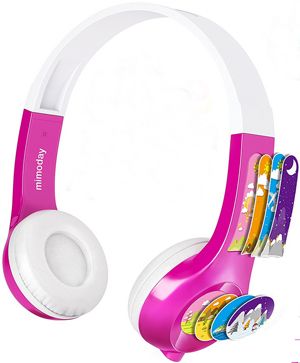 It seems like every youngster I see these days is listening to educational recordings, cartoons and music through a pair of headphones, and the volume is often loud enough for me to listen right along with them.
Unfortunately, listening to audio that's too loud will cause many children to end up with significant hearing loss by they time reach adulthood.
But it doesn't have to be that way. A pair of quality volume-limiting headphones can protect your children's hearing while still allowing them to fully enjoy they're listening activities.
I've tested several models of these special kids' headphones in the past couple of years. Most of them worked pretty well, but I recently had the opportunity to check out a pair that stands out above the rest. 
Mimoday Kids Volume-Limiting Headphones are very light, yet the sound they produce is among the best I've ever heard in a pair of kids' headphones in this price range. In fact, their sound compares very favorably to most models that cost several times their price.
The headband is made of a durable, but flexible plastic that should stand up well to the kind of abuse that youngsters typically subject their electronic gear to. It's also adjustable, ensuring a comfortable and secure fit for most any youngster from around age 3 and up.
Unlike most of the kids' headphones I've tested, these headphones from Mimoday have a detachable cord. That's a huge plus for safely storing the headphones or packing them into a suitcase. I've seen lots of these get damaged after wrapping the cord around the headphones. That won't be a problem with these.
I found the hypoallergenic ear pads to be soft and comfortable, and I'm sure you child will too.
Mimoday's volume-limiting circuitry caps the sound output at 85 decibels. That's plenty of volume for enjoyable listening, yet they're not loud enough to damage to your child's hearing. That's so very important these days.
The headphone set I tested was pink with a white headband, but they come in several other attractive colors.
Bottom line: If your children love listening to music, it's important to ensure they don't damage their hearing while they're doing it. I believe this fantastic set from Mimoday will serve them well for many years to come.
Click here to read more about Mimoday Kids Volume-Limiting Headphones at Amazon.
---
Like this post? If so, I invite you to share it with your friends. Just click one of the handy social media sharing buttons below.