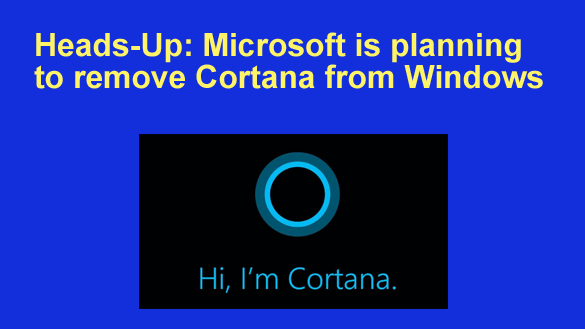 If you're a Windows user you're probably familiar with Cortana, the personal assistant that Microsoft added to Windows beginning with the initial 2015 release of Windows 10.
Personally, I've never been a fan of Cortana and removing it has always been one of the first things I did any time I got a new PC or reinstalled Windows for some reason. 
However, that being said, some folks actually like Cortana and use it on a regular basis.
If you happen to be a Cortana fan you won't be able to use it for much longer, at least not as a part of Windows itself.
According to this recently posted Microsoft Support article, they will begin removing Cortana from Windows some time in late 2023.
In case you're wondering, the above-linked article does state that Microsoft isn't ditching Cortana completely. Although they're planning to remove it from Windows in a few months it will still be available in various other Microsoft products.
In the meantime, if you dislike Cortana with a passion you can remove it from your Windows 10/11 PC right now and not have to wait for Microsoft to do it for you. Just follow these steps:
1 – Click on the Start button and type the word powershell.
2 – Right-click on Windows PowerShell and select Run as administrator.
3 – Answer Yes in response to the "User Account Control" dialog.
4 – Copy and past the following into the "Powershell" window and press the Enter key:
Get-AppxPackage -AllUsers Microsoft.549981C3F5F10 | Remove-AppPackage
That's all there is to it. After completing the steps above Cortana will no longer be installed on your PC.
Bottom line: If you happen to like Cortana you'd better enjoy it while you can because it'll be removed from your PC's Windows installation sometime before the end of this year (and you can always ditch it yourself at any time).
---