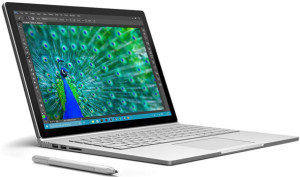 When I heard that Microsoft was planning to release a high end laptop to compete with the MacBook pro, I was a bit skeptical. But after actually taking the Microsoft Surface Book for a spin I came away quite impressed.
The Surface Book that I tested has a Intel Core i5 2.1 GHz CPU, 8GB of RAM and a super-fast 256GB SSD. It also has an amazing 13.5-inch PixelSense 3000×2000 touchscreen display that's simply stunning.
First of all, this is so much more than a typical convertible notebook. This is a full-blown high performance laptop that can also be used as a tablet. And it works extremely well in both configurations. 
One thing that I did find a bit odd is how the device didn't automatically switch from laptop mode to tablet mode when I detached the screen from the keyboard dock the first time. It's very easy to change a setting to force it to automatically switch to tablet mode every time you detach the screen, but you'd think that would be the default setting.
That one oddity aside, let me just say that I love EVERYTHING about the Surface Book. Both in looks and functionality, Microsoft did an amazing job designing this machine, and the Windows 10 Pro operating system that comes pre-installed on it works perfectly from the second you turn it on.
Here's a front view of the Microsoft Surface Book with the screen detached from the keyboard dock: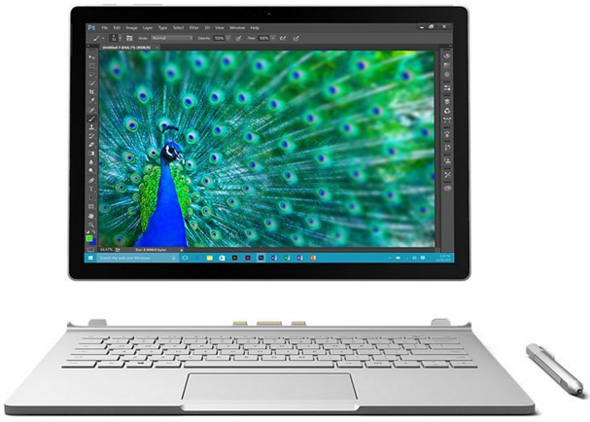 If I had to choose one word to describe the Surface Book's keyboard, it would be "perfect".
Unlike traditional docking tablet keyboards, the keyboard that comes with the Surface Book is large and very easy to type on. In fact, you'll be hard-pressed to notice any difference between typing on this keyboard and on a high-quality traditional laptop.
The NVIDIA GeForce graphics adapter works seamlessly with the gorgeous 13.5″ PixelSense display. Text and images are super-sharp and clear, making this machine easy on the eyes and a true joy to use.
The included I/O ports consist of two USB 3.0 ports and a mini DisplayPort. It doesn't have an HDMI port so you would need an inexpensive mini DisplayPort to HDMI adapter
in order to connect it to an external HDMI monitor.
A stylish "Surface Pen" stylus is included for you to use when the screen is being used in tablet mode.
It's actually hard to imagine how Microsoft managed to pack all of the power and functionality of this machine into a total package that weighs a mere 3.5 pounds, but they did it – and the result is what I consider to be pretty close to the perfect laptop/tablet experience.
Bottom line: If you're looking for an outstanding Windows alternative to the Apple MacBook Pro, you'll be doing yourself a real favor if you decide to give this amazing machine a try.
Click here to read more about the Microsoft Surface Book at Amazon.
Note: The links in this post are affiliate links.