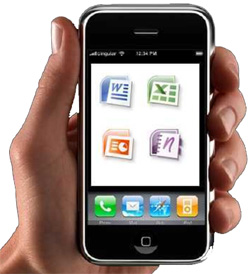 As one would expect, Windows phone users have been able to run Microsoft Office (Word, Excel, Outlook and PowerPoint) on their phones for some time now, but iPhone users who wanted to do the same were left out in the cold. But that has now changed.
Microsoft has just released Office for iPhone, a really nice app that is available for free in the Apple App Store to Office 365 subscribers. Office for iPhone wasn't intended to be used for creating new Office files on your iPhone, just for editing them, sharing them and syncing them with your Desktop PC. 
Microsoft's release of Office for iPhone finally gives the Windows-centric company a toehold in the iPhone app market. We'll have to wait a while to see how it all plays out, but it's a sure bet that many iPhone users are happy that they can now access their MS Office files right on their Apple phones.