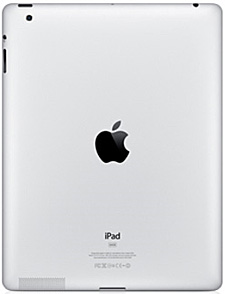 Question from Ken F:  Hello Rick. I bought an iPad 2 to use when I'm out in the field doing wildlife research for the non-profit group that I work for. I chose a tablet over a laptop because when I'm in the field I need to use it for up to 48 hours at a time without recharging the battery and without turning it off.
I need to know if it's possible to make my iPad's battery last that long? And if so, how can I make it happen?
Rick's answer:  Ken, the iPad 2 has a decent battery life right out of the box, and there are indeed things you can do to make the battery last as long as possible. But I think stretching it out to 48 hours might be out of the realm of possibility.
That being said, I do have a few suggestions for you: 
First, lower the screen's brightness level as much as you possibly can while still being able to read it. The juice required to light up the screen is considerable, and the dimmer you can keep he screen the longer the battery will last. Follow these steps to turn down the brightness of your iPad's screen:
1 – Tap Settings.
2 – Tap Brightness and Wallpaper.
3 – Drag the slider to the left to decrease the screen brightness as much as you can get by with.
Next, limit the number of actively running apps to just the ones that you absolutely, positively have to have running in order to complete the task at hand. Every app that's running will cause the CPU to work a little harder and suck up a little more battery juice.
Your iPad 2 also contains several radio devices that allow it to connect to the Internet, interact with Bluetooth devices and use location info determined via GPS. Turn off every one of those radios unless they absolutely have to be active in order to do what you need to do out in the field. Here's how:
1 – Tap Settings.
2 – Tap either WiFi option, Cellular or Bluetooth.
3 – Tap the Off switch.
4 – Repeat steps 1 – 3 for the other radio devices you wish to turn off.
Follow these steps to turn off your iPad's location services:
1 – Tap Settings.
2 – Tap Location Services.
3 – Slide the switch to Off.
Note: An easy way to turn off all of your tablet's radios at once is to place it in Airplane Mode (just tap the On/Off switch beside the words "Airplane Mode").
Another factor that affects how long your iPad 2's battery will last is the temperature that it's subjected to. A temp that it either too hot or too cold will cause the battery to drain faster than usual. Keeping it between 32ºF and 95ºF (0ºC and 35ºC) will help make the battery charge last as long as possible.
And finally Ken, while all of the tips listed above can add some useful battery life to your iPad 2, they probably won't get you anywhere near the 48 hour range you're looking for. But there's one last thing that can make a HUGE difference in the amount of time that your iPad's battery will last. Get yourself an external battery pack.
Depending on the mAh rating, a good, high capacity external battery pack can keep your iPad running at least twice as long as it would run on a single battery charge. Combine one of these jewels with the tips mentioned above and you can easily extend your battery's life into the 24 hour+ range. Even better, take along several of them and you'll be able to use your iPad for the entire 48 hours that you spend in the field!
Click here
(#ad) to check out Amazon's excellent selection of external battery packs that will work with your iPad 2.
I hope this helps Ken. Good luck!
---
Do you have a tech question of your own for Rick? Click here and send it in!