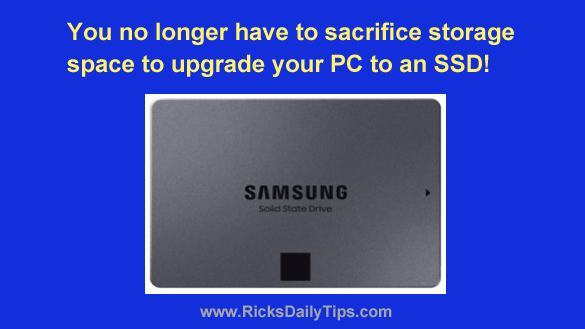 Note: The links in this post are affiliate links.
As you probably know by now, replacing the hard drive in your laptop with an SSD is an easy way to put your machine into overdrive.
Simply put, Solid State Drives are virtual speed demons when compared to even the fastest spinning hard drives.
But unfortunately, those wishing to make this awesome upgrade faced a problem…
Making the switch from a slow spinning hard drive to a speedy SSD meant giving up a ton of storage space.
Well, guess what? That problem has virtually disappeared.
SSDs with larger storage capacities are now beginning to fill the marketplace, and as drive manufacturers ramp up production their prices are coming down from the stratosphere to something that's a lot more affordable.
A perfect case in point is the awesome Samsung 870 QVO 1TB SSD that's currently selling like hotcakes on Amazon.
This spacious 1TB drive is incredibly fast, rock solid and very affordable at just about a hundred bucks or so (and that includes free shipping).
Yes, I realize that's still about twice what you'd pay for a 1TB spinning hard drive right now, but it's just a tiny fraction of what a 1TB SSD would have cost you not all that long ago.
Think of it as if you had spent years desiring a fancy sports car…
If you found out you could buy a brand new Lamborghini for just twice the cost of a Kia, which would you buy if you were shopping for a car and you could afford either one?
Consumer-grade 1TB SSDs are now common, and consumer-grade drives in the 10+ terabyte range are already actually being sold. And the prices of 2TB SSDs have started dropping as a result.
Bottom line: You no longer have to give up a ton of storage space in exchange for the opportunity to upgrade your computer to SSD speed, and you don't have to pay through the nose for it either.
And finally, I'll leave you with this prediction: Affordable large capacity SSDs will make spinning hard drives pretty much obsolete within a year or two!
---
Never miss a tip!  Click here to sign up for my free Daily Tech Tips Email Newsletter!