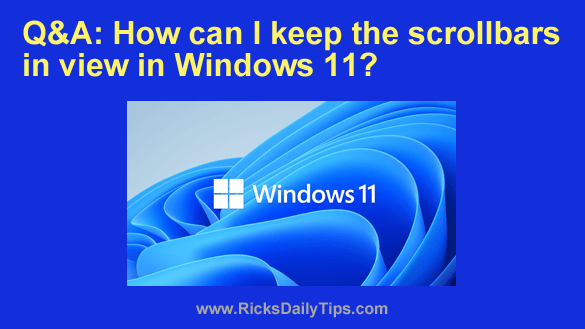 Question from Eileen:  I just got my first Windows 11 computer and it looks a lot different that Windows 10.
Most of the changes are ok but I hate how the scrollbars are hidden in some apps until I move my mouse over to the right.
Is there any way to make the scrollbars remain visible all the time in Windows 11? 
Rick's answer:  I too prefer having the scrollbars in view at all times, Eileen. I just don't see the point of hiding them.
Luckily, Windows 11 has a simple setting you can enable that will force the scrollbars to always remain in view. Just follow the steps below to enable it:
1 – Right-click on the Start button, then click Settings.
2 – In the left-hand pane, click Accessibility.
3 – In the right-hand pane, click Visual effects.
4 – Toggle the "Always show scrollbars" setting to On (the slider should turn blue).
If you prefer following visual instructions, here's a short video that shows how to do this, step-by-step.
Note: You can watch this video at full screen by clicking the little "square" icon in the lower-right corner of the video after it begins playing.
That's all there is to it. From now on you should see the scrollbars by default every time you're using an app or Windows utility.
I hope this helps, Eileen. Good luck!
---