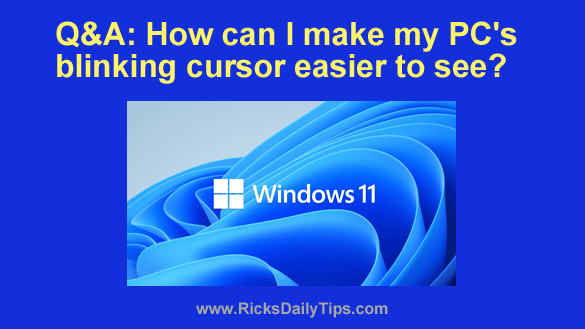 Question from Oliver:  I just replaced my old desktop computer with a brand new Dell laptop with Windows 11.
I like the new computer ok, but I'm having one problem that I hope you can help me solve.
Whenever I'm typing something into Notepad (and I use Notepad a LOT), I have a hard time seeing the text cursor.
Sadly, my eyes just aren't what they used to be. I guess that just goes with the territory when you're in your 70's. 
Anyway, what I'd like to know is can I do anything to make the cursor bigger so that it'll be easier for this old geezer to see?
Rick's answer:  Oliver, this is an issue that many seniors struggle with.
Luckily, Microsoft provides several tools in the "Accessibility" settings for tweaking Windows to make it easier for those with less than perfect eyesight to use their computers.
This short video shows how to increase the thickness of the text cursor in Windows 11:
Note: You can watch this video at full screen by clicking the little "square" icon in the lower-right corner of the video after it begins playing.
Do you prefer following written instructions? Here you go…
1 – Right-click the Start button and select Settings from the menu.
2 – In the left-hand pane, click Accessibility.
3 – In the right-hand pane, click Mouse pointer and touch.
4 – Drag the "Size" slider to the right until the mouse pointer gets just a bit larger.
5 – Leave the Settings app open and open Notepad and check to see if the small increase in pointer size helps you see the text cursor better. If not, repeat step 4 until the cursor is the most functional size for you.
That's all there is to it. Now your PC's text cursor should be a lot easier for you to see whenever you need to type something.
I hope this helps, Oliver. Good luck!
Update from Oliver:  You're a lifesaver, Rick! Now I can see the cursor with no problem at all. Thanks!
---