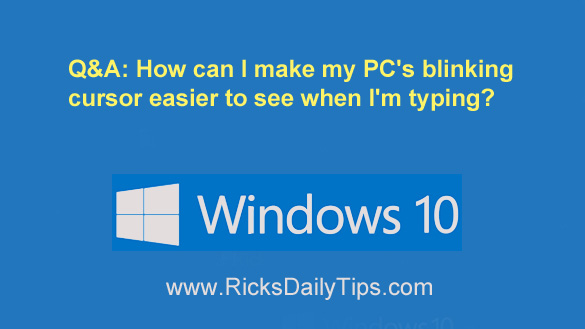 Question from Oliver G.:  I just replaced my old desktop computer with a brand new Dell laptop with Windows 10.
I like the new computer ok, but I'm having one problem that I hope you can help me solve.
Whenever I'm typing something into Notepad (and I use Notepad a LOT), I have a hard time seeing the blinking cursor.
Sadly, my eyes just aren't what they used to be. I guess that just goes with the territory when you're in your 70's.
Anyway, what I'd like to know is can I do anything to make the cursor bigger so that it'll be easier for this old geezer to see?
Rick's answer:  Oliver, this is an issue that many seniors struggle with.
Luckily, Microsoft provides several tools in the "Ease of Access Center" for tweaking Windows to make it easier for those with less than perfect eyesight to use their computers.
Follow the simple steps listed below to increase the thickness of the blinking cursor in Windows 10:
1 – Click the Start button.
2 – Click the Settings icon (it looks like a "gear" or "cog").
3 – Click Ease of Access.
4 – Click the Text cursor link in the left-hand column.
5 – Find the "Change text cursor thickness" setting and drag the slider to the right until the cursor is large enough for you to see without struggling.
That's all there is to it. Now your cursor should be a lot easier for you to see whenever you need to type something.
I hope this helps, Oliver. Good luck!
Update from Oliver:  You're a lifesaver, Rick! Now I can see the cursor with no problem at all. Thanks!
---
Never miss a tip!  Click here to sign up for my free Daily Tech Tips Email Newsletter!