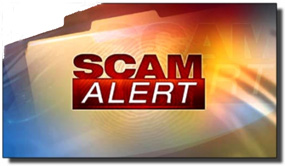 As you probably know by now, scams and viruses are constantly making the rounds on Facebook.
The latest threat is spreading like wildfire with the help of the ubiquitous Facebook Messenger app that runs on millions of smart phones and tablets.
Commonly known as "Locky Ransomeware", this threat is especially bad because there's no known decryption program available for unlocking a device once it has been encrypted. 
The good news is you can easily avoid the Locky Ransomware virus by simply paying close attention to what's going on with your device.
As mentioned above, hackers are spreading this particular piece of ransomware via the hugely popular Facebook Messenger app.
What you need to look out for are messages that arrive from out of the blue containing what appears to be an image file, but isn't really an image file all. It's actually a piece of malicious code ending with the extension .SVG.
If you click on the link to open the fake image file you'll be taken to a fake Youtube site that claims to have a video for you to view. But you'll be told that in order to view the video you'll need to download a special Chrome extension. Don't do it!
If you attempt to download the extension, the Locky Ransomware virus will download to your device instead and encrypt everything on it.
In addition to avoiding the malicious download, I also recommend that you immediately install a good security app on your device.
Personally, I use and recommend Lookout Mobile Security, but there are several other quality security apps to choose from as well.
Bottom line: Don't try to open any image file that arrives via Facebook Messenger and ends in .SVG! (And be sure to install a good security app on all of your devices right away!)
Bonus tip: Protect your Android phone or tablet from viruses with the free Avast Mobile Security app. Click here for more info.
---
Do you have a tech question of your own for Rick? Click here and send it in!
If you think your friends would like this post, I'd love you to share it! Thanks a bunch!