Microsoft Windows allows you to lock your computer when you need to step away from it for a while, and it works quite well. But a free download called Lockscreen Pro locks your screen plus does a whole lot more.
Lockscreen Pro has a number of cool features that make it a very worthwhile download, but these two are my favorites:
1 – Once your PC has been locked with Lockscreen Pro you can unlock it either by entering your password or inserting a USB thumb drive. Being able to insert a thumb drive to unlock the PC is awesome because it's so fast and convenient.
2 – If someone tries to unlock your PC by entering the wrong password, your webcam will snap his/her picture so that you can see exactly who tried to break into your computer. 
Important: Lockscreen Pro is a utility that prevents access to your computer by anyone who doesn't have the correct password, including you. Also, as with any computer program, there is always a slight possibility that using it could cause problems with your Windows installation.
Therefore, by installing and using Lockscreen Pro you agree that you do so at your own risk. If the sun begins rising in the west and places your swimming pool in the shade, dancing sheep begin keeping you awake at night by crooning poorly sung Elvis tunes, or you end up getting locked out of your own PC, you agree that it won't be the fault of your humble tech blogger (namely ME)! If you agree with everything I just said, feel free to continue…
Installing Lockscreen Pro is easy. Here's how:
1 – Visit http://sourceforge.net/projects/lockscreenpro/ and click the green Download button.
2 -Save the zipped folder to your Desktop and unzip it. If you're using Windows 7 or 8 you can simply right-click on the zipped folder and click Extract all.
3 – Double-click the Lockscreen.exe file to install the program.
Once the program has been installed, you'll have the opportunity to customize the settings with the Settings screen: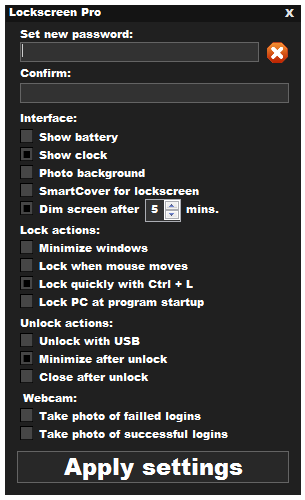 Most of the settings are self-explanatory but I recommend that you at least adjust the following:
1 – Set a new password. Be sure to REMEMBER your password because you won't be able to log back into your PC without it!
2 – If your PC is a laptop, select Show battery by checking the box.
3 – Select Show clock.
4 – Select Dim screen after 5 minutes.
5 – Select Lock quickly with Ctrl+L. With this setting enabled, pressing the Ctrl+L key combination will immediately lock the screen. Pressing Windows+L will still lock the screen using Windows' native screen locking utility.
6 – Select Lock PC at program startup. This will ensure that anyone who turns your PC on will have to enter your password before being allowed to use your computer.
7 – If your PC has a webcam attached, select Take photo of failed logins.
8 – Select any other options you'd like to enable.
9 – Click Apply Settings.
Here are a couple of things to keep in mind:
1 – After unlocking your PC, be sure to minimize the utility instead of closing it. That way you'll be able to lock the PC again just by pressing Ctrl+L.
2 – To display the Lockscreen Pro window at any time you can either click the icon in the notifications area (it looks like a shield with a diagonal line through it) or double-click the Lockscreenpro.exe file. This is what you'll see: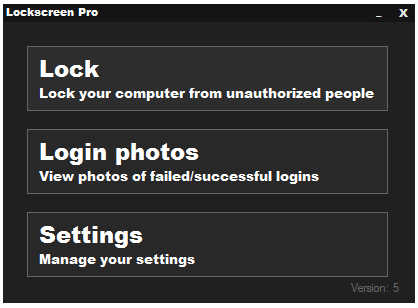 Conclusion: Lockscreen Pro offers much more flexibility than the default Windows screen locking utility. It's powerful, it's free and it works extremely well. Just keep a good handle on your password!