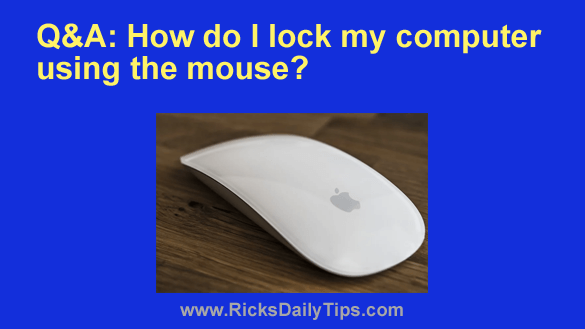 Question from Earl:  I hope you don't mind but I need help with something.
I'm 78 years old and my fingers are stiff and in almost constant pain from arthritis.
I can use a mouse fairly well but I have a hard time using a keyboard.
I know how to lock my computer using the keyboard but is there any way to do it with the mouse instead? That would be a big help to me if it's possible.
Rick's answer:  I don't mind helping you with this a bit, Earl.
And yes, you can easily lock your computer using just the mouse.
You didn't mention whether your computer is a Mac or a Windows PC so I'll give you instructions for both.


If you have a Mac…
There are two easy ways to lock a Mac with a mouse. The first way is to use the Apple menu. Here's how:
1 – Click the Apple icon in the top-left corner of the screen.
2 – Select Lock Screen from the drop-down menu.
That's easy enough, but in your case it might be even easier to use the "Hot Corners" method. Here's how to set it up:
1 – Click the Apple icon in the top-left corner of the screen.
2 – Click System Preferences.
3 – Click Desktop & Screen Saver.
4 – Click Hot Corners. You should now see four drop-down menu fields representing the four corners of the screen.
5 – Select the screen corner that you want to use to trigger the Mac to lock the screen. In order to prevent accidental screen locks I recommend that you choose a corner of the screen that you rarely move your mouse pointer to.
6 – Once you've selected the corner you want to use simply click on the corresponding drop-down box and select Lock Screen from the menu.
7 – Click OK.
That's all there is to setting up a hot corner for locking your Mac. From now on your machine will lock automatically every time you move the mouse pointer to the designated corner of the screen. You won't even need to click on anything!


If you have a Windows PC…
There are multiple ways to lock a Windows machine with a mouse, but I believe the easiest way for someone in your situation is to simply use the Start Menu. Just follow the steps below:
1 – Click the Start button.
2 – Click your User Avatar/Username.
Note: Your User Avatar should either be a small thumbnail of your photo or a little "stick figure" person.
3 – Select Lock from the menu that pops up.
Conclusion…
That's all there is to locking your computer with the mouse, Earl. I hope this helps. Good luck!
---