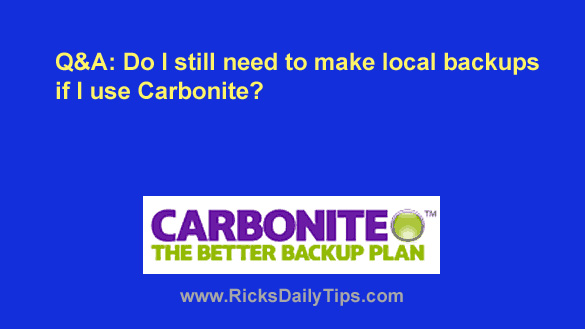 Question from Glenda: I've been using Carbonite for over a year thinking all of my data could be recovered if my hard drive died, but now I'm not so sure.
A guy at work told me that there are some very important files that Carbonite doesn't back up.
If what he told me is true, do I still need to back up my computer onto an external hard disk even though I use Carbonite?
Rick's answer:  Glenda, I'm a huge fan of Carbonite! It's a wonderful service that works great for backing up files such as photos, music, Word documents and such.
That being said, the answer to your question is yes, I do recommend that you create local backups of your hard drive to augment the backup created by Carbonite, for these reasons:
1 – If you signed up for one of Carbonite's "Basic" plans (and it's fine if you did), none of your software programs will be backed up by Carbonite. And neither will your operating system files (Mac OS / Windows / etc.).
That means if your hard drive fails you'll first need to install a new drive, then re-install your operating system and programs locally before downloading your data files from Carbonite.
Therefore, I view Carbonite's "Basic" plans as a secondary backup services, not a primary ones.
But don't worry, it's easy to back up ALL of your data including Windows and your program files locally by simply creating a System Image Backup onto an external USB hard drive. (#ad)
2 – If you have Carbonite's Professional plan your entire drive can be "imaged" to a local hard drive, and that image backup is all you'll need in order to get your computer back up and running after disaster strikes.
If your plan allows it, I strongly recommend that you create those local image backups!
I know that backing up your entire drive to Carbonite while also creating local backups sounds redundant, and you're right. It is. And it's supposed to be!
Having everything stored in the cloud is great, but what happens if your Internet connection is down and you really need to get your system back up and running in a hurry? Even the most thorough backup is useless if you cannot access it!
Also, it's a lot faster to restore your files, programs and Windows installation from a local backup drive than it is to restore everything from a cloud server.
3 – While I certainly don't expect it to happen, the Carbonite company could some day go temporarily off-line or even completely belly up, leaving you without any way to download your files from their servers.
I know, you're probably thinking that a company the size of Carbonite would never go out of business, but massive companies can and do get hit by unexpected disasters that they simply cannot recover from.
If that ever happens to Carbonite (which again, I seriously doubt will happen) you won't be faced with no way to access your backup files if you have a local backup on hand.
Bottom line: I recommend that you never depend on Carbonite (or any other cloud backup service for that matter) as your only backup method. Instead, think of cloud backup as cheap, reliable and redundant "insurance" backup storage.
I hope this helps, Glenda. Good luck!
---