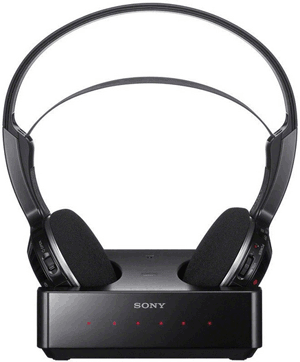 If your hearing isn't as good as it used to be, chances are you have to crank up the volume on your TV to a level that's uncomfortable for everyone else.
If that's the case, there's a very simple way that you can enjoy watching TV at a volume you can easily hear while everyone else listens at a normal volume. All you need is an inexpensive set of wireless infrared headphones. The ones I like best are made by Sony.
The Sony MDR-IF245RK Wireless IF Headphones (#ad) come with a small infrared transmitter that plugs into your TV set. The audio is then transmitted wirelessly to the headphones which let you adjust the volume to your liking. 
When these headphones are in use, the volume emitted by the TV's speakers isn't affected in any way. Everyone else listening to the program will hear it at a normal volume.
Even better, if your household has two people that need to listen at different volumes from each other AND from everyone else, you can use two sets of these headphones at the same time!
These awesome headphones come with everything you need, including a rechargeable Lithium Ion battery with a 28 hour battery life.
Click here (#ad) to read more about the Sony MDR-IF245RK Wireless IF Headphones at Amazon, including over 1,200 user reviews.
Bonus tip: Want to make sure you never miss one of my tips? Click here to join my Rick's Tech Tips Facebook Group!
---
Want to ask Rick a tech question? Click here and send it in!
If you found this post useful, would you mind helping me out by sharing it? Just click one of the handy social media sharing buttons below.