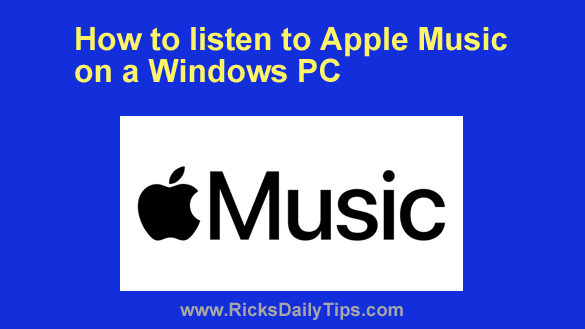 If you're a music lover who has an iPhone, iPad or Mac, you most likely have a subscription to Apple Music that you listen to on your Apple device.
But guess what? If you happen to be a Windows user that doesn't mean you can't take advantage of everything that Apple Music has to offer.
Truth be told, there are actually a couple of different ways you can listen to Apple Music on your Windows PC (although one way works a lot better than the other).
First, you can visit the Apple Music website and sign in to your account from there using your Apple ID and password.
Once you're signed in you'll be able to listen to anything and everything that would be available to you if you were using an Apple device.
The second option is to install the iTunes app on your PC from the Microsoft Store.
After the app is installed just sign in with your Apple ID and password and you'll be all set.
So which way is better?
Personally, I prefer listening via the Apple Music website in a browser, for a couple of reasons:
1 – Accessing Apple Music via your browser means you won't have to install another app. And as you probably know, the fewer apps you have installed on your PC, the better.
2 – The iTunes app for Windows is pretty buggy, making it difficult to use without encountering frequent errors.
Of course the choice is yours. If you prefer using an app you can certainly install iTunes and give it a try. Some people do report that it works well on their machines.
That's all there is to it. Now you know how to listen to Apple Music on your Windows machine.
---