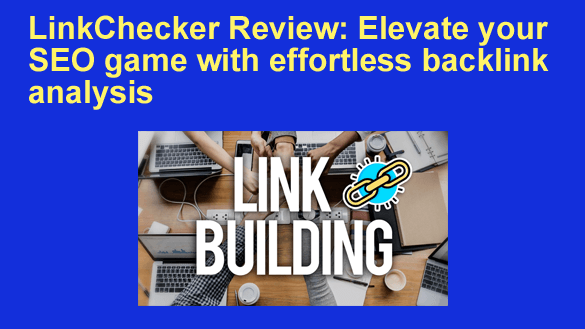 In the ever-evolving landscape of SEO and digital marketing, the importance of maintaining a robust network of quality backlinks cannot be overstated.
These links are not just digital threads connecting websites; they are powerful endorsements that can significantly boost your site's visibility and credibility in the eyes of Search Engines (Google).
Managing these vital assets effectively requires specialized tools, and that's where backlink management software comes into play. 
One such tool that has been garnering attention in the SEO community and beyond is LinkChecker. Backlink management software like LinkChecker promises to streamline the daunting task of tracking, analyzing, and nurturing your backlinks.
Such tools offer a comprehensive solution that saves time, ensures accuracy, and ultimately helps improve your website's SEO health. This review aims to explore the features, benefits, and overall functionality of this backlink monitoring tool to help you understand whether it's the right fit for your needs.


How Much Does it Cost?
Since cost is often an important criterion businesses pay attention to when reviewing software, let's start with the pricing. The company offers a tiered pricing structure designed to cater to a variety of business sizes and needs. These are the four tiers to choose from: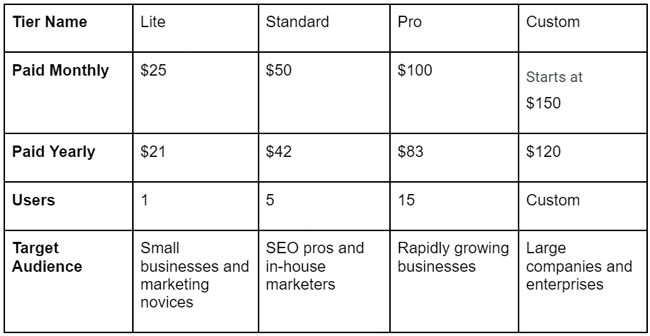 As we can see, the pricing structure is flexible and varied, offering options to suit different business needs and budgets. You get to save 20% if you choose to pay annually.
Payment methods available are extensive, including Visa, Mastercard, PayPal, Apple Pay, American Express, Wire transfer, and many more. But if these options do not suit your needs, you can contact the company for further assistance.
BOX Tier
For those who require complete privacy and want to monitor links using their own proxies, the company offers the BOX tier. This option allows companies to install the software on a dedicated server. The lifetime license for this service costs $999 and comes with a year's worth of free updates. If you want to keep your software updated, then keep in mind that the fee for yearly updates is $199.


Who Is It for, and How Can It Help You?
LinkChecker is primarily designed for users who are invested in improving their digital presence and SEO performance. For link builders, this tool is a game-changer because it does all the monitoring for them, offering a wealth of data for improving link building tactics.
SEO experts will find immense value in the ability to manage and analyze backlinks efficiently. The tool provides crucial insights for swift decision-making which is a critical aspect of any successful SEO strategy.
However, project managers and business owners are not left out either.
For project managers, this backlink management software offers features that facilitate performance reviews of link builders and contractors, thus improving team productivity and accountability. And business owners can greatly benefit from the tool's ability to store valuable information about link building.
So, in essence, the feature set enables its users to:
Track and manage their backlinks
Manage the link building team
Analyze the website's backlink profile
Monitor & immediately react to any unwelcome change in backlinks
Let's take a closer look at how exactly this backlink monitoring tool helps with these tasks.
Track and Manage Your Backlinks
The backlink tracker checks your backlinks daily and Google's index for referring pages every five days, ensuring you're always up-to-date with your backlink status. If any issues arise with crucial links, you'll be promptly notified, allowing for timely recovery or replacements to maintain your SEO rankings.
Manage Your Link Building Team
One of the unique offerings of this backlink management tool is the ability to create subaccounts for teammates and independent contractors, promoting transparency and collaboration within your team. You can compare link building statistics for each user, which aids in performance reviews and future decision-making processes.
Analyze Your Backlink Profile
The link building analysis feature stands out as particularly robust. It provides real-time data on the quantity and quality of backlinks, offering insights into their types, anchors, tiers, indexability, and even their dynamics over time. This level of detail is invaluable for anyone seeking to understand and improve their backlink profile.
Another standout feature is the ability to analyze multiple projects simultaneously via a comprehensive dashboard. This means you can compare and contrast the backlink profiles of different websites or campaigns, which adds a new dimension to your link building strategy.
Build New High-Quality Backlinks
The batch analysis feature enables you to check potential backlink sources to decide which ones are worth the attention. If you have an account with Ahrefs, Majestic or MOZ, you can also connect it with your LinkChecker account and analyze the target domains for metrics used by these tools, along with IPs.
Additionally, you can check the crawlability and indexability of the target domain's pages, as well as check if those pages are on Google. This feature saves you time and money, especially before embarking on a link-building journey.


Wrapping Up
In conclusion, LinkChecker emerges as a comprehensive tool that simplifies the complex task of backlink management. Its wide range of features, from daily backlink checks to multi-project analysis, caters to various users — be it link builders, SEO experts, project managers, or business owners.
The flexibility in pricing plans makes it accessible for different budgets, while its scalability ensures it can grow with your business. The collaborative features foster team transparency and accountability, making it a valuable asset for agencies and larger enterprises.
However, like any backlink management tool, its effectiveness ultimately depends on how well it aligns with your specific needs, resources, and long-term SEO goals. It's recommended to utilize the free trial to get hands-on experience and see if it's the right fit for you.
To sum up, here are the pros and cons you can take into account if you're considering investing in this SEO backlink monitor: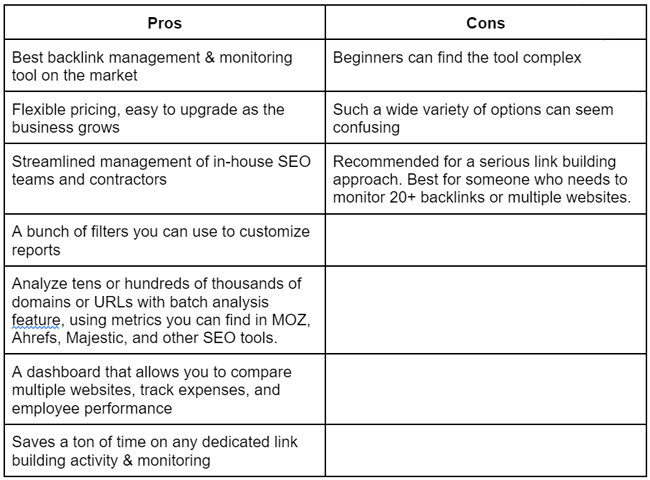 ---