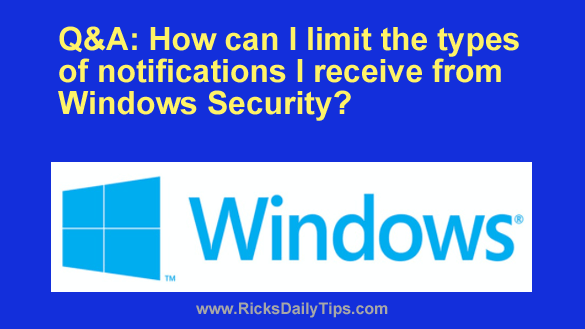 Question from Danny:  I've been reading your newsletters for over a year now, and I always learn something I can use from them.
I've read in several of your recent posts that Microsoft Defender and the free version of Malwarebytes make a good combination for security on a Windows PC.
When my McAfee came up for renewal I removed it and installed the free Malwarebytes, and so far I've been happy with that setup.
One thing I'm not happy about though is all the notifications I'm getting from Windows Security. Every day I get several of them, and most of the ones I get aren't even important.
How can I limit the notifications I receive from Windows Security to just the ones that are truly needed? 
Rick's answer:  I know exactly what you're talking about, Danny. The almost constant barrage of notifications really can be a pain on some machines.
Luckily, it's very easy to disable the types of notifications you have no interest in receiving from Windows Security.
You didn't mention which version of Windows your PC is running, but the steps below apply to both Windows 10 and Windows 11:
1 – Click the Start button, then type the words windows security.
2 – Click Windows Security after it pops up in the search results.
3 – Click the Settings icon in the lower-left corner of the "Windows Security" window (it looks like a "gear").
4 – In the right-hand pane, find the "Notifications" section and click the Manage notifications link.
5 – Uncheck the box beside each notification type that you'd like to stop receiving.
Note: It might take several adjustments to find just the right configuration of notifications preferences.
That's all there is to it, Danny. Good luck!
Update from Danny:  I was able to get rid of the most irritating notifications. Thanks for your help.
---