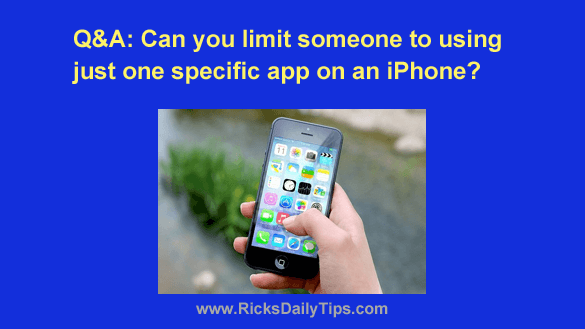 Question from Gwen:  I installed a kid's game on my iPhone that teaches the child how to do basic math in order to solve a series of mysteries.
The recommended age range for the game is 4 to 6.
My daughter turned 4 a couple of months ago so I believe she should be able to successfully play the game.
The thing is I don't want her to be able to do anything with the phone except use that one app.
Is there any way to limit an iPhone to using just one app?
Rick's answer: I'm happy to say you're in luck, Gwen.
All iPhones have a feature called Guided Access that does exactly what you're wanting to do.
All you have to do is go into your iPhone's "Settings" app and enable Guided Access and then tell it which app you want your daughter to be able to use.
You'll also be able to restrict which of your iPhone's buttons, features and options your daughter can use as well.
Guided Access is very easy to set up and use, but the steps required to do it vary according to which specific model of iPhone you have.
Since you didn't specify the model of your iPhone I'll simply direct you to this page on the Apple website where you'll find step-by-step instructions.
As I said above, it's easy to enable and use Guided Access. Just follow the instructions on the Apple Support page and you'll be all set!
By the way, Guided Access is also available on iPads. If you have one it might be easier for your daughter to play that game on the iPad instead of your phone. Just something to think about…
I hope this helps, Gwen. Good luck!
Update from Gwen:  I knew you'd have a good answer for me, Rick. Thanks so much!
---
Never miss a tip!  Click here to sign up for my free Daily Tech Tips Email Newsletter!