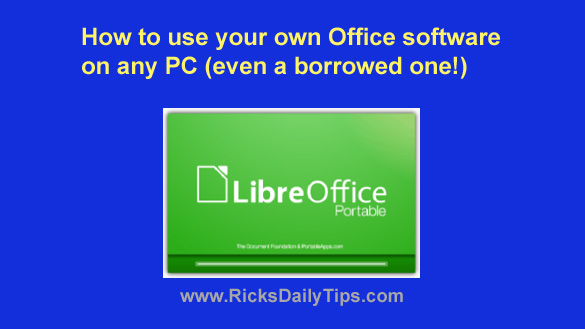 Do you ever find yourself needing to use Microsoft Office on a PC that doesn't have it installed?
An easy solution is to use a cloud-based Office suite like MS Office Online or Google Docs, but what if you happen to be in a place that doesn't have Internet access?
Well, there's a simple (and free) solution to this problem: Simply put the portable version of Libre Office on a USB flash drive and take it with you everywhere you go! 
Like the full desktop version of Libre Office, the portable version is a full-featured Microsoft Office compatible Office suite that contains a word processor, a spreadsheet, a presentation tool, a drawing package and a database program.
Every component of the Libre Office Portable suite can read and write files in MS Office format. That makes it easy to work with MS Office documents using any borrowed PC while you're traveling and then use those same documents on your work computer when you get back to the office!
It's easy to put your own copy of Libre Office Portable on a USB flash drive. Here's how:
1 – Connect a USB flash drive to your PC. (I recommend using a flash drive with at least 2GB of free space.)
2 – Download Libre Office Portable from this page.
3 – Run the downloaded installation file in order to install Libre Office Portable onto the flash drive.
4 – (Optional) If you only work in English you can check the box beside Remove extra languages to save storage space on the flash drive.
5 – When prompted, select the USB flash drive as the Destination folder, then click Install. This will begin the installation process (which could take a few minutes).
That's all there is to creating your Libre Office Portable flash drive. Luckily, using it is even easier. Here's how:
1 – Insert the flash drive into an open USB port.
2 – Open the LibreOfficePortable folder.
3 – Double-click on the executable file for the Office module you wish to run (the filenames are fairly self-explanatory.)
4 – Use the program to edit an existing document or create a new one, then save it to the flash drive.
There you go! Now you'll be able to use your very own Office suite on any PC that has an open USB port!
Bonus tip: Are you a student or a teacher? If so, you can get Microsoft Office 365 for free!
---