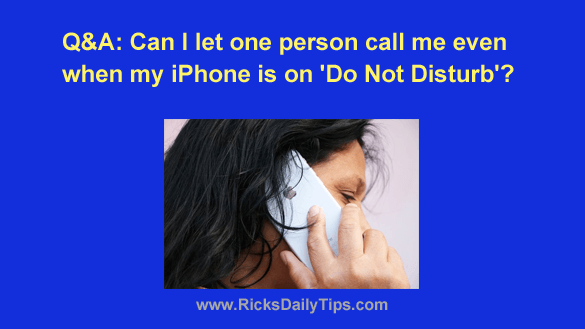 Question from Janelle S.:  I know there probably isn't a way to do what I'm asking, but I thought I'd ask anyway.
I have to keep my phone silenced when I'm in class, but my dad is very seriously ill and I need to be able to get messages from my mom in case something happens with him.
I really need for my phone to ring if she calls so I can leave the room and call her back. Is there any way that I can let my mom call me even when I have my iPhone set to "Do Not Disturb"?
I have explained the situation to my professor and he's cool with it.
Rick's answer:  Janelle, there are a couple of ways to allow your mom to call you when you have "Do Not Disturb" turned on. The method you'll need to implement will depend on which version of iOS your iPhone is running.
If your iPhone is running iOS 10 or later…
All you need to do is enable the new "Emergency Bypass" feature on your mom's entry in your contacts list. Here's how:
1 – Open your Contacts list and select your mom's name.
2 – Tap the Edit link.
3 – Tap Ringtone.
4 – Toggle the "Emergency Bypass" option to On.
5 – Tap Done, then tap Done again.
From now on your iPhone will ring when your mom calls even if your phone is set to "Do Not Disturb".
If your phone is running iOS 9 or earlier…
While earlier versions of iOS won't allow you to complete the procedure detailed above, you can accomplish the same goal with a simple workaround.
All you have to do is designate your mom as the only "Favorite" contact in your Contacts List and then change a setting to allow your "Favorite" contacts to contact you even when "Do Not Disturb" is turned on.
First, you need to make your mom a "Favorite" contact by following the instructions below:
1 – Open the Phone app.
2 – Select the Favorites tab, then tap the + sign in the upper left-hand corner.
3 – Select your mom's name from list of contacts to add her to your Favorites list.
Next, you need to change your Settings to allow you Favorite contacts to contact you when your iPhone is set to "Do Not Disturb". Here's how:
1 – Open the Settings app.
2 – Tap Do Not Disturb.
3 – Tap Allow Calls From.
4 – Select Favorites.
Finally, you need to make sure your mom is the only person on your Favorites list in order to prevent other contacts from audibly calling or texting you during class. Simply remove all the contacts that are currently on your Favorites list except for your mom.
That's all there is to it Janelle. I hope this helps. Good luck!
Update from Janelle:  That's exactly what I was hoping for Rick! Thanks a lot!!!!
Bonus tip: If there are times when you'd like to use Siri without having her "speak" to you, this post explains how to disable her voice.
---
Never miss a tip!  Click here to sign up for my free Daily Tech Tips Email Newsletter!