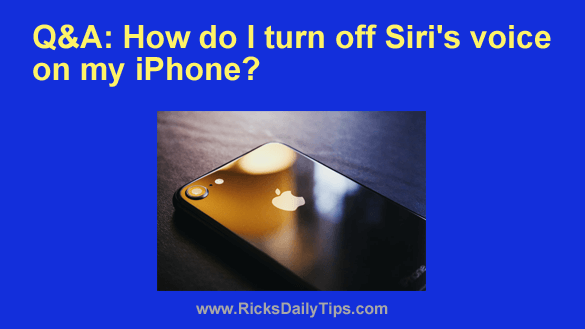 Question from Keisha:  I love your tips, Rick. They've helped me so much since I started reading your blog.
I especially like the way you answer people's questions, and now I have a problem of my own that I hope you can help me with.
I use Siri for various things when I'm in meetings, but her voice is disruptive to the others in the room. I'm tired of getting evil stares when Siri answers me lol.
How can I disable Siri's voice so she'll answer my queries with text only? Thanks. 
Rick's answer:  Siri is a very handy tool for sure Keisha, but I can certainly understand why you need to silence her during your meetings.
Luckily, it's very easy to make Siri hush up and start answering you in text-only mode. Here's how:
1 – Tap Settings.
2 – Tap Siri & Search.
3 – Tap Siri Responses.
4 – Change the "Spoken Responses" setting to Only with "Hey Siri".
That's all there is to it. From now on Siri will respond to your queries in text-only mode unless you get her attention by speaking "Hey Siri".
Important: In order for Siri to converse with you in text only mode, you'll need to invoke her by pressing and holding the Home button.
If you speak the words "Hey Siri" she'll think you want her to speak her replies out loud, and she'll do just that.
I hope this helps, Keisha. Good luck!
Update from Keisha:  I appreciate your help, Rick. Thank you!
---