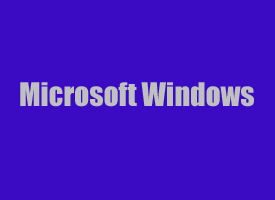 Since we now know that Microsoft is planning to scuttle the Windows 8 brand sooner than usual by releasing Windows 9 sometime in 2015, I think it's safe to assume that they have learned a few lessons from the Windows 8 debacle. Well, at least one can hope.
While Windows 8.1 is a vast improvement over Windows 8, many irritants still remain that tend to frustrate seasoned Windows users.
Here are just a few of the lessons that Microsoft surely must have learned by now: 
1 – The typical computer user (i.e. the vast majority of us) doesn't like being faced with massive change. Upon its release, the "look and feel" of Windows 8 made it seem like we were using an entirely new operating system. That is not a good thing since so many folks are reluctant to embrace massive change and hate having to learn how to accomplish simple tasks all over again.
2 – The typical computer user doesn't want a million bells and whistles in their computer's operating system. They just want it to work without crashing and help them successfully complete the tasks at hand without having to jump through a thousand hoops to do it. Save the bells and whistles for the programs and apps that run under the control of the operating system.
3 – And speaking of apps, the typical computer user loves them – on their MOBILE devices, not on their "real" computers. If we're using a laptop or desktop PC, most of us prefer to use real computer programs, not lightweight apps that are subject to more limitations than a mile-high stack of grocery store coupons.
4 – The typical computer user prefers having everything available from a single home screen. It makes no sense whatsoever to have to switch back and forth between the Desktop and the Start Screen just to run an app instead of a full-blown program (or vice versa). Yes, I know it's possible to create tiles on the Start Screen for our Desktop applications, but typical computer users doesn't know how to set it up, and they shouldn't have to.
5 – The typical computer user doesn't like having to search high and low for a simple system setting. Windows 7, XP and even the much-maligned Windows Vista had it right when it came to finding the various system settings. Windows 8 has it all wrong.
6 – Touch screens are essential (and even fun) on mobile devices, but the typical computer user finds them to be essentially useless on a laptop or desktop PC.
7 – The typical computer user LOVES mobile devices, but we don't like being forced to use our laptops and desktop PCs as if they were mobile devices. And yes, we understand that laptops are indeed "mobile" devices, but they are also entirely capable of operating as fully functional computers (after all, they do have large screens, keyboards suitable for "real" typing, and pointing devices).
8 – This lesson pretty much sums up all the other lessons mentioned above. Change is good when it actually adds value to a product by making it work better or easier to use. Change that does the opposite is worse than useless. And change just for the sake of change is rarely a good idea, especially when it involves something as complicated as a computer operating system.