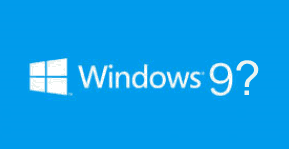 The guys and gals at Microsoft won't tell you this, but it appears that they've grown weary of trying to rehabilitate the miserable reputation of Windows 8. And I believe in hindsight they know that miserable reputation was well-earned.
According to reports coming out of Redmond, Microsoft is planning to announce Windows 9 during the Build 2014 developer conference that's coming up in April. 
The new O.S. won't be available for some time after April of course, but just the simple fact that they're planning to announce it so soon after the release of Windows 8 speaks volumes about their lack of confidence in the Windows 8 name.
In my opinion, the almost completely new design of Windows 8 was a big mistake for a number of reasons. The follow-up with Windows 8.1 was a huge step in the right direction, but by the time they finally got around to releasing it the Windows 8 brand had already become toxic in the marketplace.
Every version of Windows before Windows 8 was updated and kept on the market for several years in order to maximize the profits from its R&D investments, but apparently Windows 8's shelf life is destined to be relatively short.
Rumor has it that Windows 9 will be a lot more like Windows 7 than Windows 8 (or even Windows 8.1 for that matter), at least its user interface will be. And when it comes to usability, it's the user interface that really matters.
Of course Microsoft is right in thinking that the future of computing lies in mobile devices, and Windows 9 is sure to fully support them, as it should. But there will still be plenty of traditional desktop and laptop users for many years to come. I think Microsoft has learned their lesson about making them feel abandoned. I hope so anyway. Only time will tell.