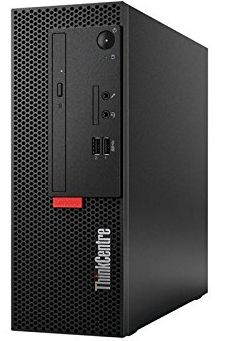 It seems that most computers on the market these days are either general purpose computers or gaming PCs.
But did you know there's still a thriving market for business-oriented computers?
The typical business PC is something of a cross between general purpose machines and gaming rigs.
Business computers need a hefty amount of processing power and RAM but they don't really need a powerful graphics card like a gaming PC.
The Lenovo ThinkCentre M710e Business Desktop PC (#ad) hits that sweet spot quite well. Take a quick look at these specs: 
Intel i5-7400 Quad Core Processor (3.0 – 3.50 GHz) 6MB Cache
500GB Solid State Drive (SSD)
Intel HD 630 Graphics w/ 1 DisplayPort and 1 VGA port
2 Front-Panel USB 3.1 Gen1 ports
2 Rear-Panel USB 3.1 Gen1 ports
2 Rear-Panel USB 2.0 ports
Realtek ALC233 High Definition (HD) Audio
1 Year On-Site, "Next Business Day" Warranty
As you can see, this machine is tailor-made for running most types of business software (MS Office, Accounting, etc.) due to it's fast CPU and spacious RAM.
The first thing I noticed when I first saw this machine was how well the Small Form Factor (SFF) desktop case would fit on a small desk. It isn't absolutely tiny like the new ultra-compact PCs that are all the rage these days, but it's definitely much smaller than the typical desktop computer.
The next thing I noticed was how quickly the machine booted up into Windows 10.
Of course this is partially due to the fast Core i5 CPU, but it primarily due to Lenovo's decision to place the operating system on an SSD instead of a much slower spinning hard drive.
And speaking of that SSD, it's relatively spacious (500GB) compared to the smaller 120 – 250 GB boot drive SSDs that most PCs currently come with.
I found this PC to be quite adept at multi-tasking with Open Office, Photoshop Elements and several smaller programs running at the same time. Rest assured that you won't spend half of your day waiting on this machine to catch up.
I also like the fact that is comes with a 1 year onsite warranty that covers parts and labor.
If anything happens to this machine during the warranty period a tech will come to your home or office by the next business day. That's a lot better than having to box it up and ship it to Lenovo or carry it in to Geek Squad!
With all the positives I mentioned above, I did experience a couple of minor irritations with this computer:
1 – Since this machine doesn't have an HDMI port you won't be able to directly connect an HDMI monitor to it. You'll have to use a DisplayPort to HDMI adapter. (#ad)
This isn't all that big a deal since these adapters are quite inexpensive, but you'd still think a computer of this caliber would come with an HDMI port.
2 – There are no USB 3.0 ports at all. You'll have to choose between USB 3.1 Gen1 (which admittedly is pretty awesome) and the MUCH slower USB 2.0.
While can always plug your slower peripherals into the USB 2.0 ports, I simply cannot understand why there aren't a couple of USB 3.0 ports on there too. Again, this is a minor irritation, but it still irritates me.
Bottom line: There's plenty of power packed into this machine for running most business-type applications and performing swift and smooth multi-tasking. And while it's graphics capability is too anemic for any kind of serious gaming, it would certainly make a fantastic general purpose PC.
Click here (#ad) to read more about the Lenovo ThinkCentre M710e Business Desktop Computer at Amazon.
Bonus tip: Want to make sure you never miss one of my tips? Click here to join my Rick's Tech Tips Facebook Group!
---
Do you have a tech question of your own for Rick? Click here and send it in!
If you found this post useful, would you mind helping me out by sharing it? Just click one of the handy social media sharing buttons below.